Hello friends! If you love to write a blog or even not like to do so then we have an exciting update for you as Microsoft Azure Blogathon Program is launched which include big prizes and rewards for bloggers so stay with us to know more about this program.
Also read: Reliance Foundation Scholarship | Especially for Undergraduates/ Postgraduate Students | Apply by 14 Feb
About Microsoft Azure Blogathon
Participate in this one-of-a-kind competition to build an ecosystem of learning and sharing priceless insights experienced by developers while building solutions on Microsoft Azure, and get ready to become a member of a community of Azure developer bloggers. It giving an opportunity to win big by just writing a blog.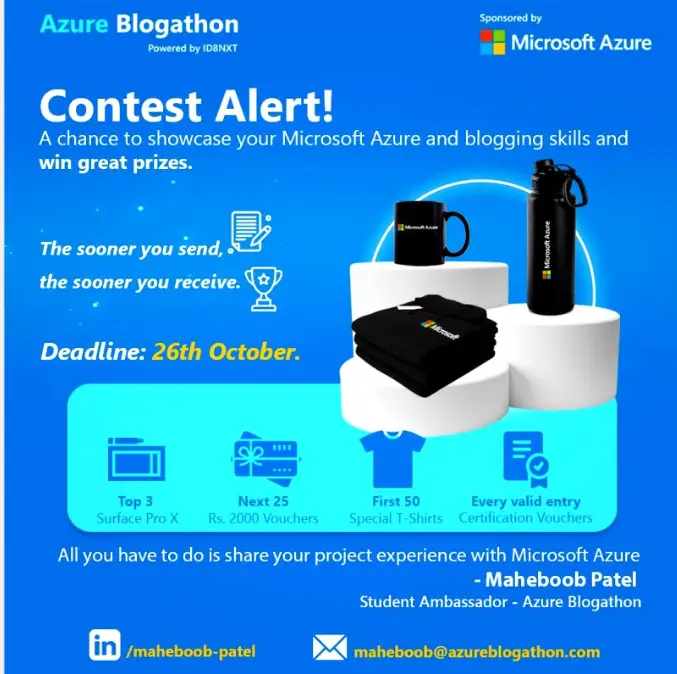 Eligibility Criteria
It is open to everyone who has the desire of writing a blog.
Application Process

Also read: MS IndiaSkillingInitiative|Microsoft Virtual Trainings| Get Free Microsoft Exam Vouchers| Apply Now| Limited Seats
Terms and Conditions
A participant is only permitted to submit ONE blog entry. Multiple blog submissions will be rejected.
The participant, winner, or piece of content will be eliminated:
if the submission was made after January 17, 2022
if the submission's full or substantial content was previously published; or if any significant portions of the content were plagiarised.
if the same entry is submitted under different categories or if the content does not fit any of the contest's category requirements.
Microsoft Azure retains the right to modify the prize information without prior notification.
The prizes are contingent upon availability, and shipping/courier services are permitted and available.
Unless otherwise specified, the winner is solely responsible for all taxes, insurance, fees, and surcharges associated with any prize; any applicable Tax Deduction at Source (TDS) or other applicable statutory charges will be applied to the prizes in accordance with the laws currently in effect in India.
Prizes will only be given to the winner and are non-transferable.
Direct phone or email contact will be made with the winners.
The decision by Microsoft Azure and the review panel shall be considered final in the event of any disagreements regarding the winner selection or the developer blog submissions; further correspondence shall not be taken into consideration in that regard.
You grant Microsoft the right to publish and distribute the content on the Microsoft website, newsletters, social media platforms, and other channels (you will still own all the rights to your submission).
Important Dates

Also read: Amazon Future Engineer Scholarship| Especially for Girls| Apply by 31st Dec| Get Scholarship Amount worth INR 40,000/year
Perks & Benefits
The top 3 winners will get a Surface Pro X
The next 25 best blog submissions will each receive an online voucher worth INR 2000
Personalized t-shirts will be given to the first 50 bloggers.
The writer of every valid blog entry get an Azure Certification Exam voucher.
How to apply?
To view the official notification of Microsoft Azure Blogathon CLICK HERE
To apply in Microsoft Azure Blogathon CLICK HERE
Also read: Microsoft Research Fellows Internship Program For Final Year College Students in 2022