Hello friends! If you have the willingness to do a Certified government course then we have an update for you as a short-term FREE training programme at nominated Training Centres at all India levels for youth under Rail Kaushal Vikas Yojana. This program is an entry-level skill development training program in various trades i.e. AC Mechanic, Carpenter, CNSS (Communication Network & Surveillance System), Computer Basics, Concreting, Electrical, Electronics & Instrumentation, Fitters, Instrument Mechanic (Electrical & Electronics), Machinist, Refrigeration & AC, Technician Mechatronics, Track laying, Welding, Bar Bending and Basics of IT, S&T in Indian Railway. This training will help candidates in getting employment and becoming self-employed too. So stay with us to know more about this program till the end of the post.
Also read: AICTE & GOOGLE Virtual Internship Program| Android application development in Kotlin Internship| Free Google Certified Internship| Apply by 31 March 2023
About Pradhan Mantri Kaushal Vikas Yojana (PMKVY)
Pradhan Mantri Kaushal Vikas Yojana (PMKVY) is the flagship scheme of the Ministry of Skill Development & Entrepreneurship (MSDE) implemented by the National Skill Development Corporation. The objective of this Skill Certification Scheme is to enable a large number of Indian youth to take up industry-relevant skill training that will help them in securing a better livelihood.
Also read: Infosys Springboard Young Professional Certification Series| 6 Free Certification Courses Series| Apply Now
Rail Kaushal Vikas Yojana Eligibility
10th pass,
Age 18 – 35 on date of notification.
Rail Kaushal Vikas Yojana Selection method
The percentage marks in 10th class will be basis of merit for selection. As per formula given by CBSE, multiply CGPA with 9.5 to convert CGPA into percentage.
Candidates imparted training under 'Rail Kaushal Vikas Yojana' will have NO CLAIM to seek employment on railways on the basis of such training.
Also read: Internshala Greatest Stargazing Internship|Apply by 18 March
Other details Rail Kaushal Vikas Yojana
i. Training will be provided free of cost but candidate will have to make their own arrangements for fooding and lodging.
ii. No allowance like daily allowance /conveyance allowance or travelling allowance etc. will be paid to the trainee.
iii. Training only in daytime.
iv. Candidate shall be required to give an affidavit (Notarized affidavit with a non-judicial stamp of Rs.10) about following rules, discipline safety guidance as issued by Institute and will not make any claim on employment etc.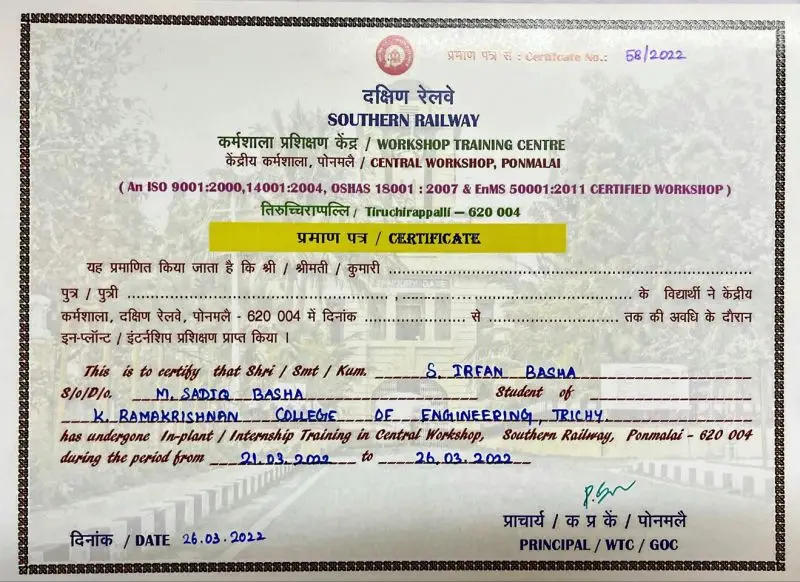 How to apply?
To apply for Training Programme under 'Pradhan Mantri Kaushal Vikas Yojana'
Also read: IIT Gandhinagar Summer Research Internship Program 2023 | Get a Weekly stipend of Rs. 2000| Apply by 5 March