Hello friends! Tata Strive & AWS re/Start Program is launched to provide Free Training related to Placement so stay with us to know more about this program until the end of the post.
Also read: Free Coursera & Google Cloud Certified Course | Data Engineering, Big Data, and Machine Learning on GCP Specialization
About Tata Strive
Tata STRIVE is the skill development venture of the Tata Community Initiatives Trust, which operates under the auspices of Tata Trusts and addresses the pressing need to prepare India's youth for employment, entrepreneurship, and community enterprise. Tata STRIVE empowers youth from disadvantaged backgrounds through technological, pedagogical, and methodology innovations. Since 2014, 6.5 lakh people have benefited from the Tata STRIVE advantage.

Also read: Amazon Future Engineer Scholarship| Especially for Girls| Apply by 31st Dec| Get Scholarship Amount worth INR 40,000/year
Info about AWS
Amazon Web Services, Inc. is an Amazon subsidiary that offers on-demand platforms for cloud computing and APIs to individuals, businesses, and governments on a pay-as-you-go basis. Through AWS server farms, these cloud computing web services help in providing distributed computing processing capacity and software tools.
About Tata Strive & AWS re/Start Program
AWS re/Start is a 12-week, full-time skills development programme that prepares jobless or underemployed people for entry-level cloud jobs. It is working with Tata STRIVE, a Tata Community Initiative Trust initiative aimed at actively bridging the gap between vocational education and industry needs.
AWS re/Start graduates work in cloud operations, site reliability, and infrastructure support. Graduates in these positions use Python scripts to support Linux operating systems, operate network infrastructures, deploy basic AWS core services, and perform preliminary troubleshooting.
Each cohort of learners completes a 12-week training programme that includes scenario-based learning, hands-on labs, and coursework, aided by professional mentors and accredited trainers. AWS re/Start helps learners prepare for interviews and meetings with potential employers by providing resume building and interview coaching. The mission of the programme is to assist unemployed and underemployed individuals who would not otherwise have access to the necessary technical education in developing the skills needed to pursue entry-level cloud roles. Tata STRIVE assists learners in developing job-specific skills, connecting with employers, and launching their cloud careers.
Also read: Linkedin & Microsoft Certified Courses| Top 6 demanding Courses| Get Professional Certificate| Apply Now
Elgibility Criteria
A STEM Graduate / BCA / MCA / BSc IT / B Tech / M Tech / BE can be eligible for this program.
You are not employed full-time or regularly work more than 16 hours per week.
You are not currently employed in the education or training sector.
You are legally permitted to live and work in India.
You are interested in a career in technology and can demonstrate it.
You are available for training for 12 weeks in a row (Full days; Monday to Saturday 9 AM to 5:30 PM)
To participate in the training, you must have computing equipment and an ongoing internet connection.
If you find a job after training, you are permitted to begin working immediately.
Skills Covered in this program
Real-world, scenario-driven, result-oriented learning, labs, and coursework will prepare you for a career in technology.
1.Technical skills
How cloud computing works
AWS Cloud skills
How to use different programming languages
Build skills aligned with AWS certification – Prepare for the AWS Certified Cloud Practitioner Certification
2.Behaviour & Mindset Skills
Effective communication
Problem-solving
Teamwork
Time management
Journey in this program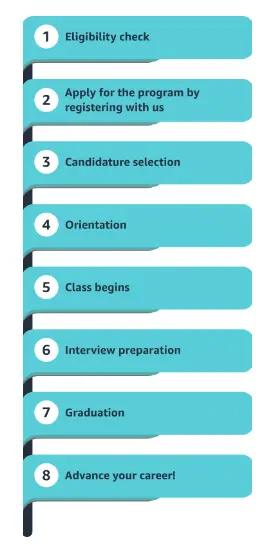 How to apply in Tata Strive & AWS re/Start Program?
To apply in Tata Strive & AWS re/Start Program CLICK HERE
To view the official notification of Tata Strive & AWS re/Start Program CLICK HERE
Also read: Coursera Certified Guided Projects Based Courses| Top 12 Certified Guided Projects| Apply Now