Hey students! Today we have curated Coursera 6 Free Certification Course in 2022 These courses are mostly related to health care professionals as well as for normal people who can enroll and learn for free with a verified certificate from top Universities like Stanford and Johns Hopkins.
To know what is the course content read the post below.
Also Read: Google Coding Competitions 2022 | Clear all 3 Levels to win Swags
About Coursera 6 Free Certification Course in 2022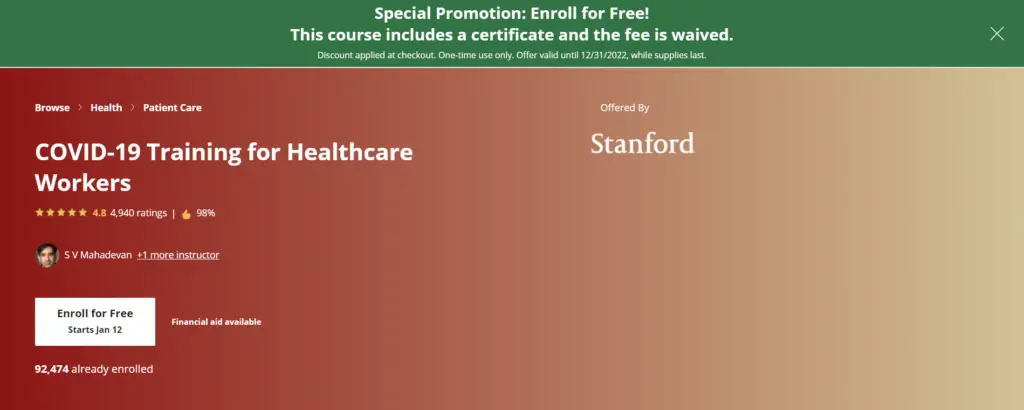 Coursera Inc. is a U.S.-based massive open online course provider founded in 2012 by Stanford University computer science professors Andrew Ng and Daphne Koller. It works with universities and other organizations to offer online courses, certifications, and degrees in a variety of subjects.
Also Read: Ninja Entrepreneur Programme from Coding Ninjas | Good Part-Time Earning for Students
Course 2 Details
COVID-19 Training for Healthcare Workers
COVID-19 is rapidly spreading across the globe and all providers must be prepared to recognize, stabilize and treat patients with novel coronavirus infections. Following completion of this short course physicians, nurses, and other healthcare professionals will have a unified, evidence-based approach to saving the lives of patients with COVID-19, including those who are critically ill.
Learning modules are broken into short videos presented in a richly illustrated and compelling manner. The course is self-paced and providers can schedule their learning to fit with their schedules. Topics include symptoms and signs in patients with COVID-19, early stabilization of patients, preventing the need for intubation, and ventilator management. The best evidence and guidelines are summarized while accompanying handouts provide written learning points and links to online resources. Simple infographics are available for providers to utilize within their care facilities to educate and promote optimal care across their entire institution.
Also Read: Infosys HackWithInfy Coding Competition 2022 | Get Free Swags and Cash Prizes up to Rs. 3,50,000
Skills you will Gain
Emergency/critical care
Respiratory distress
Infection prevention
Ventilator management
Covid-19 diagnosis and treatment
Also Read: Want 7-Days Online Internship? Check Internshala Internship Resolution 2022
Benefits
Flexible deadlines: Reset deadlines in accordance with your schedule.
Shareable Certificate: Earn a Certificate upon completion
100% online: Start instantly and learn at your own schedule.
Approx. 8 hours to complete
Also Read: Amazon Wow Internship in 2022 – Software Development Engineer Intern: Apply Now
How to Apply for this course
To apply to this course CLICK HERE