Hello learners, Coursera has recently announced Free online courses for students and free certificates for this May month. The main reason behind this is a celebration of the Asian and Pacific Islander Community by exploring the API community's cultural and historical impact.
Coursera has included a wide variety of courses from world-class experts like Wesleyan University, Nanjing University, John Hopkins University, and University of Zurich etc. Interested people can read more for further details.
Also Checkout: Eduonix Infiniti Free courses | 2000+ Free Online Courses For Students
Some of Free Coursera Online Courses with Free Certificates from World-class Experts
Take Action: From Protest to policy
Designing and Building Institutional Anti-Racist Spaces
Chinese Culture and Contemporary China
Reducing Gun Violence in America: Evidence for Change
Introduction to Korean Philosophy and Culture
and many more courses.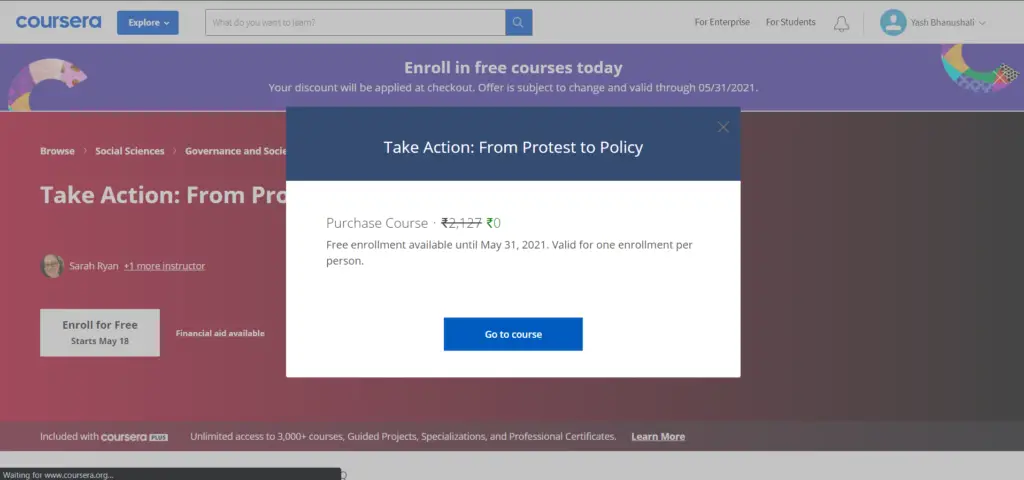 Your discount will be applied at checkout. Offer is subject to change and valid through 31st June 2021
Note: You can enroll only in one course with one email address.
How to Apply