Hello folks! This post is beneficial for those who want to become Data Management Certified as TCS MasterCraft DataPlus Certification is launched so stay with us to know more about this course.
Also read: Google Cloud Mini Courses| Get Google Cloud certifications Free Exam Voucher| Apply Now
About TCS MasterCraft DataPlus Certification Course
Enterprises can handle data privacy, test data management, and data quality management needs with the aid of TCS MasterCraftTM DataPlus. Data privacy, data quality control, test data management, data analytics, and data modeling are all made possible by TCS MasterCraftTM DataPlus.
In this interactive course, you'll watch videos, go through self-paced learning modules, and take an exam to wrap things off. All devices can run the course's design. After finishing the course, the students will be able to:-
Understanding the importance and difficulties of data management
Recognize the significance of Data Quality and Data Privacy
Recognize the Data Life Cycle
Describe the capabilities of TCS MasterCraft™ DataPlus
About the editions of TCS MasterCraftTM DataPlus.Describe TCS MasterCraftTM DataPlus's features and advantages.
Topics Covered
Module 01:Overview of Data Management and its Challenges:- Determine the problems that businesses have with data and the software-driven strategy to solve them.
Module 02: Introduction to Data Life Cycle in an Enterprise:- Understand the data life cycle
Module 03: Data-related Challenges Affecting Data Management:- Identifying the problems with data and the remedies to them.
Module 04: Need for Software-driven Data Management:- Realize that software-driven data management is needed
Module 05: Introducing TCS MasterCraft™ DataPlus:- Learn about the benefits of TCS MasterCraft™ DataPlus.
Module 06: Importance of Data Privacy and Data Quality:- Recognize the significance of data quality and privacy.
Also read: GDSC Certified Event| Compose Camp-Android Study Jam| Get Free Google Swags
Prerequisites
Learners should have a fundamental understanding of the steps involved in data management as well as the following:
Need for Data Management in Enterprises
Issues with Data Management
Data privacy and quality are important.
Life Cycle of Data
Metadata
TCS MasterCraftTM DataPlus abilities
TCS MasterCraftTM DataPlus's characteristics and advantages
Benefits of TCS MasterCraft DataPlus Certification Course
If you give two hours a day to complete this course, this course will be over in a week.
After successful completion of the course, you have to clear an online assessment test for getting a certificate of appreciation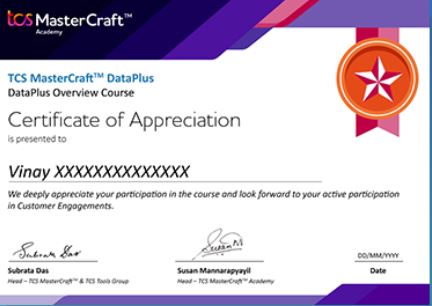 How to apply?
To apply for TCS MasterCraft DataPlus Certification Course CLICK HERE
Also read: Accenture Innovation Challenge 2022| Job Offer After Completing Accenture Challenge