Hey Students and Working Professionals! Are you aware of Google's Speech Recognization technology? If not then let me tell you it is a sophisticated tool that uses Google's machine learning technology to convert voice to text. So why does this benefit you? Recently there is competition is going on from Google called the "Google Crowdsource Vocalize Campaign" where you will get the chance to Earn Free Goodies by just completing some simple tasks.
To know the complete details read this full article below.
Also Read: Free Microsoft AI Workshop on 25th or 26th Nov | Win Exciting Free Swags: Register Now
About Google Crowdsource Vocalize Campaign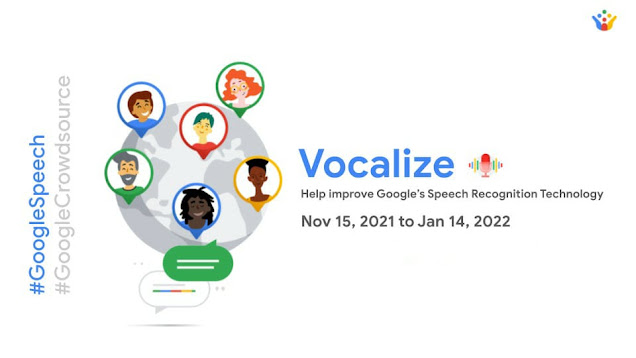 The Vocalize Marketing Campaign is an initiative from the Google Speech workforce to incorporate chosen languages into their dataset by the means of the brand new Audio Donation process on the Crowdsource App.
Also Read: GitHub India Externship Program for Developers | Free Registrations Open for Winter Cohort
Eligibility Criteria
This campaign is exclusively for Africa and India (selected languages only).
Android users (since this task is available only on the Crowdsource app on the Play Store)
Anyone who speaks the following languages–

[Africa] Akan, Hausa, Igbo, Kinyarwanda, Sesotho, Shona, Somali, Wolof, Yoruba
[India] Assamese, Gujarati, Hindi, Kannada, Malayalam, Odia, Tamil, Telugu

Anyone who is at least 18 years of age
Also Read: Google Play Free Courses 2021 | Google Google Play Academy Study Jams | Free Google Play Certification Courses
Important Dates
Start Date: 15th November 2021 (Already Started)
End Date: 14 January 2022
What will you get?
The ones who are on the top contributing group (from the 4 cross-regional teams) and individual top contributors within each native language will receive Exciting Goodies!
(Note: To be eligible for this, participants must make at least 250 quality contributions to the Audio Donation task)
How to Apply for Google Crowdsource Vocalize Campaign?
Fill up the form by signing up for the campaign – Vocalize_campaign_link – by Nov 30, 2021
(Note: Sign up using the email address associated with crowdsource app. To confirm your participation, you should not edit the Referred by section)

You will be asked to select your language/s and preferred team color.
Depending on the color that you select, you will become a part of one of the four teams: Blue, Green, Red, and Yellow (You will be grouped with other participants, across the two regions, who made the same selection as you) –
After a fun and friendly competition of contributing to the Audio Donation task, one group will emerge as the winner!
Contribute to the Audio Donation task on the Crowdsource app across a period of 2 months (Nov 15, 2021, to Jan 14, 2022); participate in campaign meet-ups and other activities