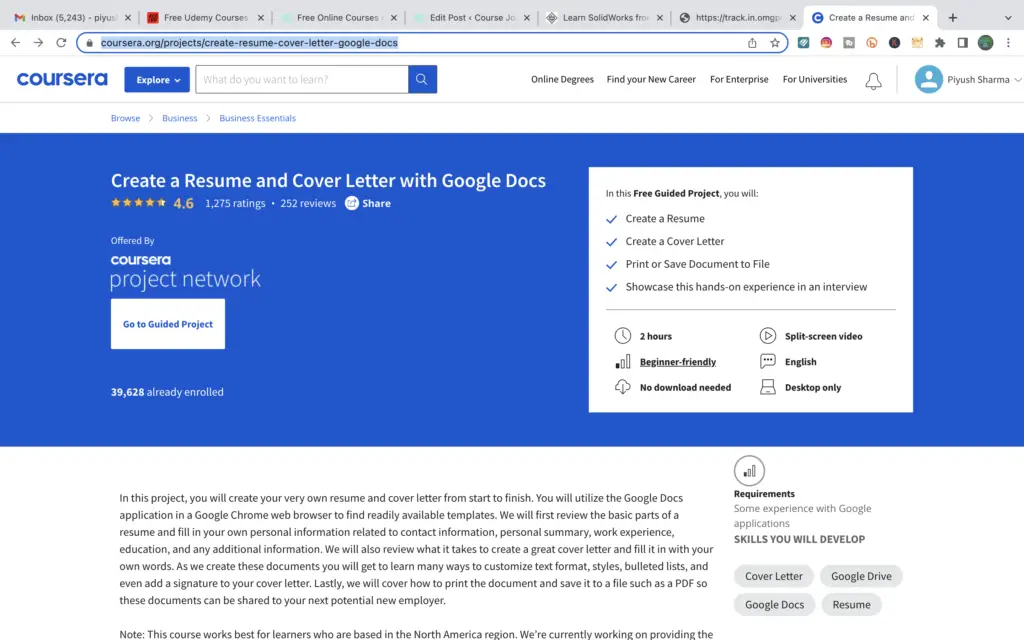 About This Guided Project
In this project, you will create your very own resume and cover letter from start to finish. You will utilize the Google Docs application in a Google Chrome web browser to find readily available templates.
We will first review the basic parts of a resume and fill in your own personal information related to contact information, personal summary, work experience, education, and any additional information.
We will also review what it takes to create a great cover letter and fill it in with your own words. As we create these documents you will get to learn many ways to customize text format, styles, bulleted lists, and even add a signature to your cover letter.
Lastly, we will cover how to print the document and save it to a file such as a PDF so these documents can be shared to your next potential new employer.
---
In this Guided Project, you will:
Create a Resume
Create a Cover Letter
Print or Save Document to File
Learn step-by-step
In a video that plays in a split-screen with your work area, your instructor will walk you through these steps:
Fine and Review Parts of a Resume Template.
Fill in Contact Information and Summary.
Fill in Work Experience.
Fill in Education Information.
Fill in Additional Information.
Add References Information.
Add page numbers.
Apply Text Format Changes and Adjustments.
Find a Cover Letter Template and Complete it.
Print and Save Document to a File.
Also Read
Get Thousands Of Free Udemy Course
Link To The Guided Project
Interested candidate can avail this guided project course from the given Button below.