Course Description:
The course includes Twelve (12) hours of instructor-led training and exercise facilitation.
Who is this course for?
This course is aimed at all the individuals who want to guide their future professional career in the area of Cyber Security.
Why Certiprof?
CertiProf certification services offer the most suitable method to take/ retake your exam from anywhere in the world. It empowers individuals, helps them achieve their optimum level by providing the necessary tools, trainings to increase their performance and improve their professional development and skills.
Check out this Amazon Free Certificate Course 2020
How to get the Certificate?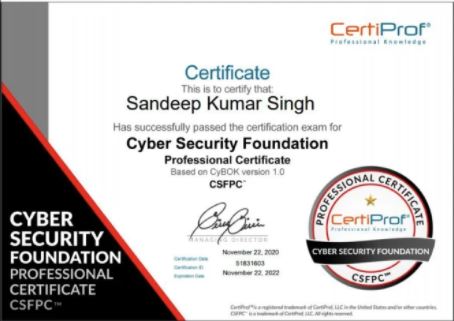 In order to get the certificate, one has to give the Cyber Security Foundation Exam. The details of the exam are as follows:
| | |
| --- | --- |
| Format of the exam: | Multiple choice |
| No. of questions: | 40 |
| Language: | English |
| Min. score required to pass | 28/40 or 70% |
| Duration of exam: | 60 min |
| Delivery: | The exam will be available online |
| Supervised by: | At the Partner's discretion |
The participants of the Cyber Security Foundation course will receive the following study materials:
Check out this GitHub Student Program 2021
The test is available in English language.
The maximum number of attempts allowed per candidate is two.
Here is the course link – https://certiprof.com/pages/cyber-security-foundation-csfpc
All the best from Tricky man 🙂