Indian institute of Technology, Kanpur (IITK) is launching a new free online course related to CLASSICAL ELECTROMAGNETISM. The interested college students and the students who want to enhance their skills can enroll themselves. read further to know all about the course.
Details about Free Course
The course will be in English language.
Recorded videos will be provided that will be accessible during the course duration.
There are no charges, it is a free course launched by professor H.C Verma.
The lecture videos will be released on alternate days of the week i.e. Tuesday, Thursday and Saturday.
There will be 4 quizzes through out the session, every month one evolution quiz will be held.
At the end of completing the course, a certificate will also be given.
Grading will be done on the basis of your performance in the quiz.
The duration of the course will be 3-4 months.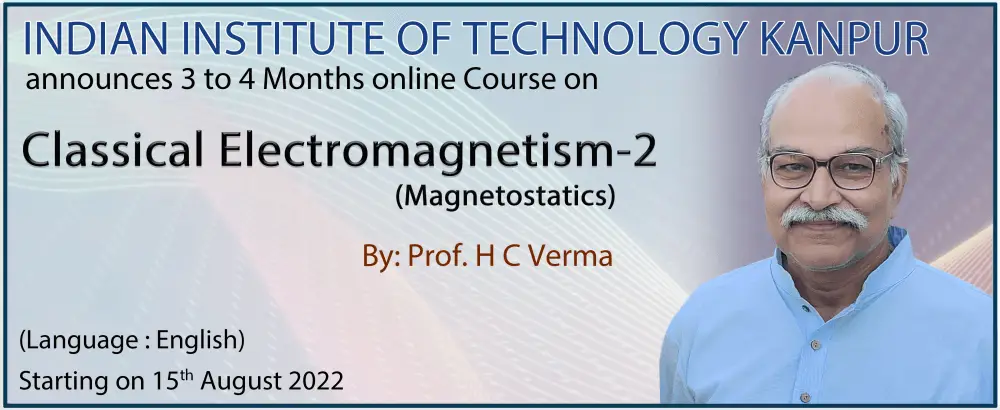 Important notice– Certificate will be given to those who have completed all the lecture videos and the quizzes.
What Will you Learn?
The course is in detail about the following topics and it will cover other topics of classical electromagnetism. Read further to avail the free course.
Electric current, linear, surface and volume currents and their densities
Current elements
Magnetic field as an essential consequence of Special Theory of relativity
Motion of a charged particle in a Magnetic field and in a crossed electric and magnetic field
Motion in a nonuniform magnetic field, Magnetic bottle, Deviation of Cosmic rays, e-beam evaporation of solids
Magnetic dipole moment of a general plane current loop, forces and torques due to magnetic field
Bio-Savart law for magnetic field
Ampere's Law
Vector potential
Eligibility for the enrollment
Undergraduate and post graduate student completed their degree in B.sc, M.sc, B.tech and M.tech and other science related degree.
Physics teachers teaching in the school, at UG and PG level.
Students who are pursuing other courses in the field of science and technology can enroll alongside.
People interested in Quantum mechanics and having physics and math's background.
Terms to avail Certificate
Certificate will be issued by the Centre for Continuing Education (CCE), IIT Kanpur.
It will be issued on the basis of performance in the quiz and other activities.
The attendance will also be measured for the issuing of certificate.
Attendance details
Attendance will be marked on the basis of the lectures viewed by the person from the course website.
Attendance will be given on each session's lecture video.
To get certificate minimum 90% lectures must be viewed of each session.
Important dates to not miss the opportunity
last date to enroll in the course is 14th August 2022.
The first recorded lecture will be uploaded on 15th August 2022.
How to apply?
For official notification by IIT Kanpur for launched course on Classical Electromagnetism, CLICK HERE
For registering in the course, CLICK HERE