National Career Service (NCS) is providing Free Career Skills Courses by partnering with TCS iON. These courses are designed for you so that you can increase your chances of getting selected for a job interview. The course covers a variety of topics like resume writing, effective email writing, etc. By learning such skills one can ace the job interview with ease.
To know more about the course read the entire post down below.
Also Read: TCS Off-Campus Hiring 2022 | TCS Integrated Test Pattern (ITP) | Freshers Can Apply | Apply by 20th May 2022
About NCS Free Career Skills Courses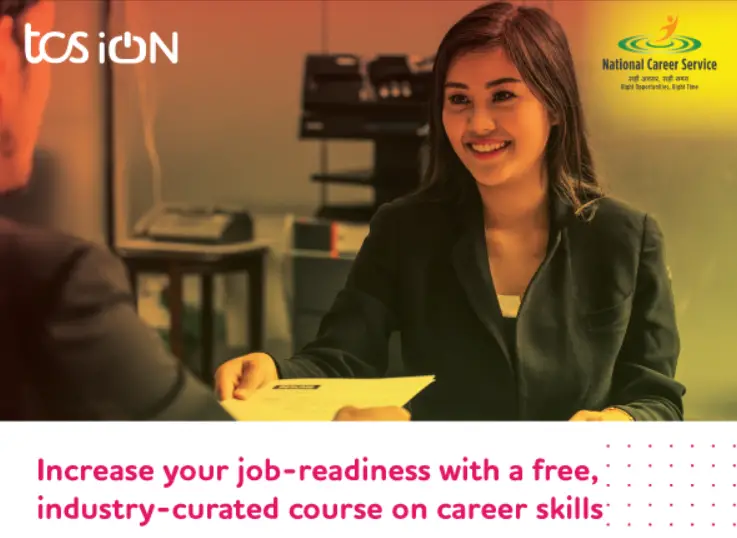 NCS in collaboration with TCS iON is providing
This self-paced online course on soft skills or career skills assists the learners in enhancing personality development.
The objective of this course is to ensure that learners, have the ability to qualify both in academics and aptitude. They can also gain the necessary skillsets demanded by industry today and get a head start in their career.
Also Read: Wipro School for IT Infrastructure Management Program (SIM) | Wipro University Recruitment | Apply by 30th Apr. 2022
Course Syllabus
The course on "Career Skills" comprises the following modules:
Module 1: Develop Soft Skills that Industry Demands

Know the importance of soft skills to achieve better results

Module 2: Make Impactful Presentations

Learn how to prepare and make engaging and effective presentations

Module 3: Learn Corporate Etiquette

Learn common business etiquette followed in a corporate setting

Module 4: Write an Effective Email

Craft a professional email with impactful content and a strong subject line

Module 5: Improve Interpersonal Skills for Better Results

Enhance your verbal and non-verbal communication skills

Module 6: Prepare a Strong Resume and Cover Letter

Understand how to create a winning resume and cover letter

Module 7: Learn Corporate Telephone Etiquette

Understand etiquette to follow during a work-related telecall

Module 8: Understand How to Ace Corporate Interviews

Understand how to attend and ace corporate interviews

Module 9: Be Prepared for Group Discussions

Know why group discussions are there and learn to actively participate
Also Read: Google Cloud Ready Facilitator Program 2022 | Registration Open for Students
How to Register for NCS Free Career Skills Courses?
To Register for the course CLICK HERE
Also Read: CBI Associate Legal Assistant Apprenticeship | Stipend Rs.7K-15K | Apply Now