Hello friends! If you have dreamed of doing an internship at Google then this is going to be fulfilled now as AICTE & GOOGLE Virtual Internship Program is launched to provide Android application development in Kotlin Internship so stay with us till the end of the post to know more about this program.
Also read: IIT Kanpur Surge Internship Program 2023| Get a Stipend of up to Rs.12500| Apply by 15 Feb
Info Regarding AICTE's Internship Portal
If you're looking for government-certified internship opportunities that are based on your interests, ideal job locations, and potential future careers, this is the place to be. This guide will show you how to find the best internship opportunities quickly and submit your application using the AICTE Internship Portal:-
Register on the portal and fill out your profile's required fields.
This takes no more than ten to fifteen minutes and completes about half of your work.
For information on government, private, or public internships, check out the categories on the student dashboard. Based on your preferred location and the qualifications you have listed in your profile, you are automatically matched with the best kinds of internship offers. As a result, you can see any internships that are open right away.
Select the internship that best suits your needs from the list, then press the "Apply" button.
There are absolutely no necessary forms to fill out!
After successfully applying for the internship, you can make your profile visible to internship providers in your field of interest with just one click.
About AICTE & GOOGLE Virtual Internship Program
This virtual internship program was created by SmartBridge in partnership with Google and AICTE to teach Android application development in the Kotlin programming language to more than 5000 students throughout India. The program has a total learning experience of 100 hours, which consists of project development, self-paced learning, and practical training. The virtual internship will last for eight weeks, and those who finish it and meet the requirements will receive certificates of completion.
Also read: IIT Bombay Internship 2023 | Any Degree & Any College Student | 5 Domain Specific Internship
Benefits & Perks
100 hours worth of total learning
Project work, practical boot camps, and mentoring assistance
Google developers' certificate of completion for the course
Certification for a virtual internship provided by Smartinternz in collaboration with Google Developers & AICTE.
According to UGC/AICTE standards and guidelines, students can submit the certificate to apply for academic credits with the approval of their college, university, or affiliated state or central university.
Taking the certification exam is beneficial: Exam for the Associate Android Developer title.
Google developers offer swags to the top students.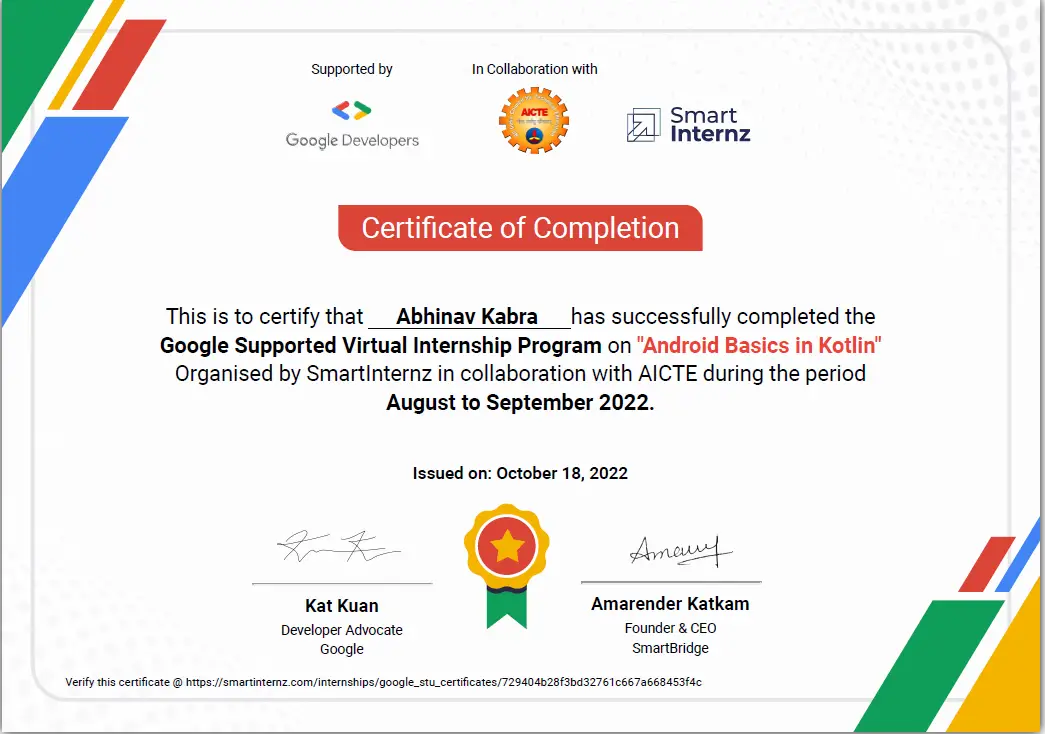 Eligibility Criteria
Candidates who are pursuing B.Tech / B.E, M.Tech/M.E/MCA, or B.Sc / BCA degree from any stream can be eligible for this program
Applicants who are available for a duration of 8 Weeks.
How to apply?
To apply for AICTE & GOOGLE Virtual Internship Program CLICK HERE
To view, the official notification of the AICTE & GOOGLE Virtual Internship Program CLICK HERE
Also read: Free TCS Certification Course | Resume Writing and Cover Letter Course| Apply Now