Hello everyone! If you have a keen interest in learning Cloud Technology then we have an update for you as AWS Academy Sponsered Internship which is certified by AICTE and EduSkills is launched by the name of Cloud Technology Virtual Internship Program so stay with us to know more about internship till the end of the post.
Also read: AICTE & GOOGLE Virtual Internship Program| Android application development in Kotlin Internship| Free Google Certified Internship| Apply by 31 March 2023
About AICTE's Internship Portal
This should be the place to be if you're looking for internship opportunities that have government certification and are based on your interests, ideal job locations, and potential future careers. You can access the AICTE Internship Portal to quickly find the best internship opportunities and submit your application by following the steps below:-
Register on the portal and complete the necessary fields for your profile.
This completes roughly half of your work and only takes ten to fifteen minutes.
Check out the categories on the student dashboard for details on internships in the public, private, or governmental sectors. You are automatically matched with the best kinds of internship offers based on your preferred location and the qualifications listed in your profile. You can therefore see any internships that are available right away.
From the list, choose the internship that most closely matches your needs, then clicks "Apply."
There are zero required forms to complete!
You can easily make your profile visible to internship providers in your field of interest after submitting a successful internship application.
Info about AWS Academy Sponsored Internship
With the goal of developing a workforce that is prepared for the industry and will one day lead in developing technologies Launch of the Cloud Technology Virtual Internship Program by EduSkills AICTE with assistance from AWS Academy Since the pandemic, demand for the cloud has skyrocketed as companies attempt to develop resilience, and AWS is the pioneer in this space.
Also read: IIT Madras Summer Fellowship Program | Get a stipend of Rs.6000/- per month| Free IIT Certified Internship| Apply by 31 March
Things To Be Remember
On the AICTE Internship Portal, students must register for this program.
The concerned institute officials will receive the list of chosen students.
The AWS Academy Portal will enroll the shortlisted students, and they will be given access to courses
The course must be completed in 4 weeks by giving online assignments.
A project will be given to students who complete the online course satisfactorily.
Within four weeks, students must finish the assignment with the assistance of their professors and turn it in using the format that will be made available later.
For the length of the project Experts in the industry will advise students for 4 days and 8 hours. Corporate MentorsHRs will provide students with a 1-day, 2-hour career improvement program.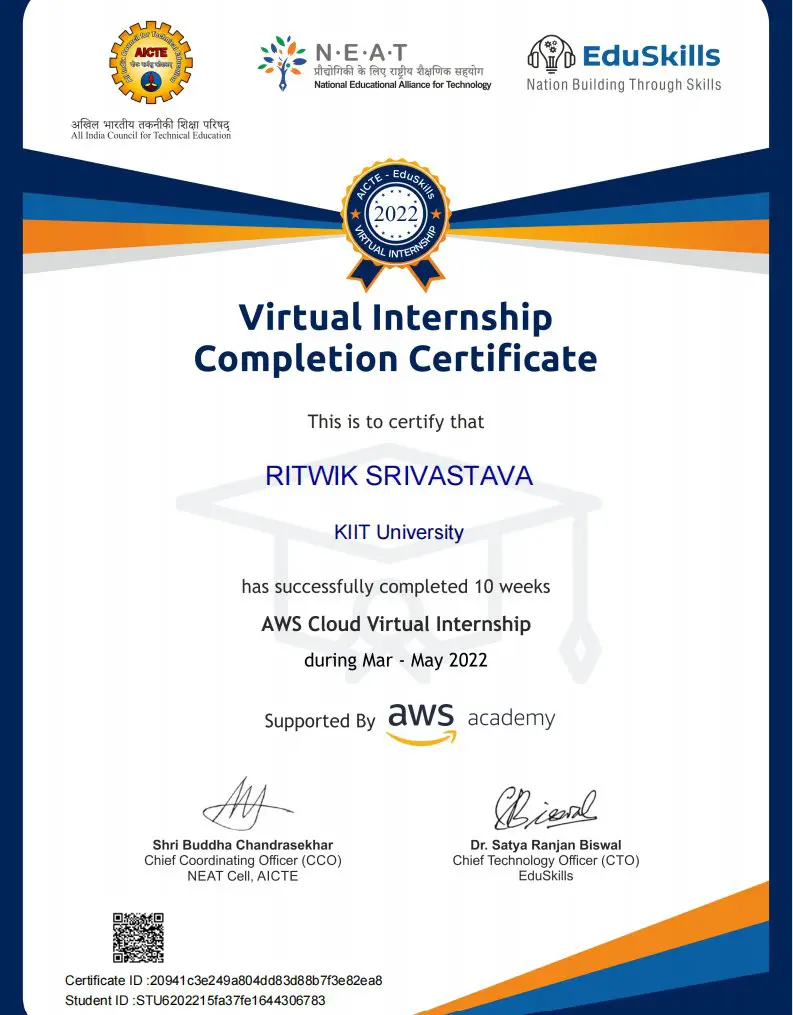 Eligibility Criteria
A candidate who has pursuing/completed any degree in any stream can be eligible for this program
Also read: Infosys Springboard Young Professional Certification Series| 6 Free Certification Courses Series| Apply Now
Benefits
The candidate gets Internship Certificate from AICTE and EduSkills sponsored by AWS Academy
Internship digital badges are also given to candidates.
Successful interns will be offered job possibilities at multinational corporations.
How to apply?
To apply to AWS Academy Sponsored Internship
Also read: Internshala Greatest Stargazing Internship|Apply by 18 March