If you want to become IBM Certified Artificial Intelligence & Machine Learning Professional then we have an update for you as AICTE & IBM Skillsbuild Internship Certification is launched so stay with us until the end of the post to know more about this opportunity.
Also read: IIT Bombay Internship 2023 | Any Degree & Any College Student | 5 Domain Specific Internship
About AICTE's Internship Portal
This should be the place to be if you're looking for internship opportunities that have government certification and are based on your interests, ideal job locations, and potential future careers. You can access the AICTE Internship Portal to quickly find the best internship opportunities and submit your application by following the steps below:-
Register on the portal and complete the fields that are necessary for your profile.
This completes roughly half of your work and only takes ten to fifteen minutes.
Check out the categories on the student dashboard for details on internships in the public, private, or governmental sectors. You are automatically matched with the best kinds of internship offers based on your preferred location and the qualifications you have listed in your profile. You can therefore see any internships that are available right away.
From the list, choose the internship that most closely matches your needs, then clicks "Apply."
There are zero required forms to complete!
You can easily make your profile visible to internship providers in your field of interest after submitting a successful internship application.
Also read: Free AICTE & IBM Skillsbuild Certified Internship| Cloud Computing Internship| Apply by 31 March
Info about IBM Skillsbuild Internship Certification
Concerning the IBM SkillsBuild Internship Camp, apply to an IBM internship through SkillsBuild! This is your chance to learn everything there is to know about success-related skills! During this four-week camp, you can acquire and hone skills that will increase both your employability and your subject-matter confidence. Throughout the camp, a subject-matter expert who will be your mentor will guide you in this internship! During this camp, you'll face a real challenge related to the subject of your internship! You will work in a group with your mentor to come up with a solution and turn it into a project.
Students who want to develop the foundational knowledge they need to land entry-level jobs can do so by using the technical and professional skills e-learning platform known as IBM SkillsBuild. By using the learner's selected desired job profiles as a guide, the learning platform encourages self-paced learning. After completing the interactive, multimedia course material, students receive industry-recognized badges and certificates that boost the value of their professional social networking profiles and resumes.
Eligibility Criteria
A candidate who is pursuing BE/B.Tech in II, III, IV Year / BCA in II, III year / MCA in I, II year from any streams such as Computer Science, Civil, Mechanical, Electrical, and Electronics.
Applicant should have a Valid GMAIL Account for SkillsBuild Camp Registration
A candidate who is available for a duration of 8 Weeks
Also read: IIRS & ISRO Certification Course | 2 New Courses| Govt Certified Course| Apply Now| Limited Seats
Benefits
The potential to quicken your learning in group-based, project-based settings During master class sessions, business leaders act as mentors to maximize learning
Solving real-world issues is a good way to demonstrate your expertise in a good or service.
Your value to potential employers will increase by obtaining IBM and Edunet certifications.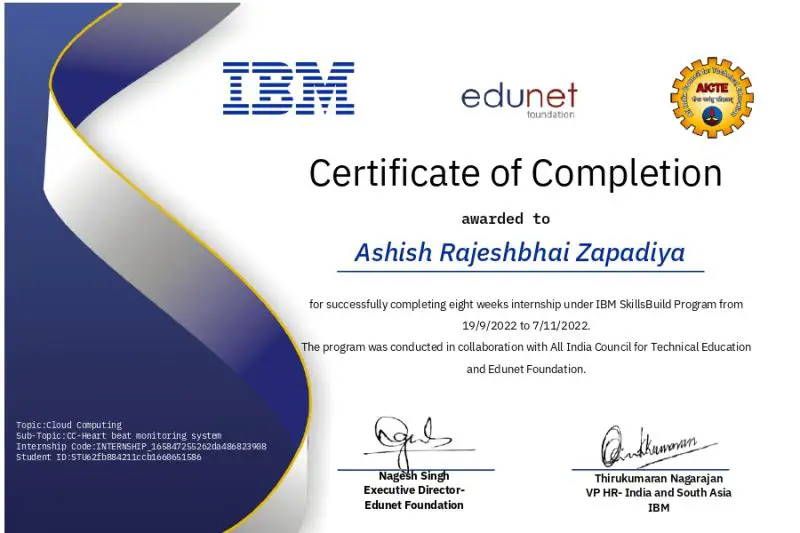 To apply for the IBM Skillsbuild Certified Internship of AI & ML CLICK HERE
To apply for the other internship on the AICTE portal CLICK HERE
Also read: Microsoft Rise Program | Free Microsoft Certification Courses | Learn New Skills