Hello friends! If you wanna have the desire to do IIT certified internship then we have an update for you as IIT Gandhinagar Summer Research Internship Program (SRIP) 2023 is launched with a Weekly stipend of Rs. 2000 so stay with us until the end of the post to know more about this program.
Also read: AICTE & GOOGLE Virtual Internship Program| Android application development in Kotlin Internship| Free Google Certified Internship| Apply by 31 March 2023
About IIT Gandhinagar
IIT, the Indian Institute of Technology In Gandhinagar, Gujarat, India, there is a public technical university called Gandhinagar. The Indian government has designated it as an Institute of National Importance. The IIT Gandhinagar campus was built in 2008 and is situated along the Sabarmati River on 400 acres of land.
IITGN is recognized as India's first 5-star GRIHA LD (Green) campus for reducing its adverse environmental impact. For ensuring food safety and encouraging healthy eating, the campus has been recognized as India's first 5-star campus.
Info about IIT Gandhinagar Summer Research Internship Program (SRIP) 2023
This is a project-based Summer Research Internship Program launched by IIT Gandhinagar with a Weekly stipend of Rs. 2000
Also read: IIT Kanpur Surge Internship Program 2023| Get a Stipend of up to Rs.12500| Apply by 15 Feb
Eligibility Criteria
Undergraduate or graduate students at a prestigious Indian university can be eligible for this program
Things to be Remember
Candidates must collaborate with the IITGN faculty. The list of participating faculty and the descriptions of the available projects are both recommended readings for applicants.
According to their interests and previous experience, applicants can apply for internships. They are free to apply for jobs that are unrelated to the degree specializations they have stated.
At the end of the tenure, applicants must present their ideas to the institute and submit a report.
Duration of Program
The Duration of the Program is 8 weeks or more during IITGN's summer break
Also read: IIT Bombay Internship 2023 | Any Degree & Any College Student | 5 Domain Specific Internship
Benefits
A stipend of Rs. 2000 per week will be paid once the internship is over. However, the stipend for projects supported by faculty may differ.
The summer interns will be housed in dorms, and students are responsible for covering any associated dorm fees.
When the internship is successfully completed, the interns will be entitled to a stipend and a certificate.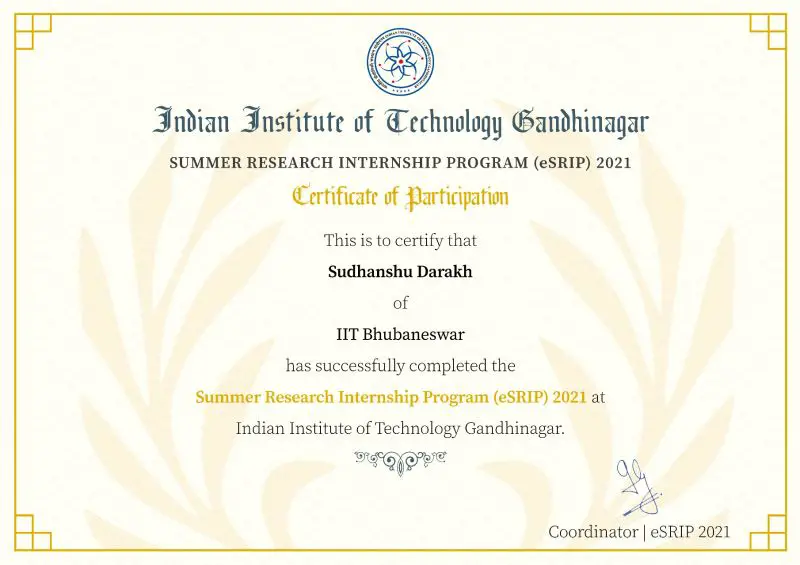 How to apply?
To apply to IIT Gandhinagar Summer Research Internship Program (SRIP) 2023 CLICK HERE
To view the official notification of the IIT Gandhinagar Summer Research Internship Program (SRIP) 2023 CLICK HERE
Also read: Free TCS Certification Course | Resume Writing and Cover Letter Course| Apply Now