Internshala Let's Work from Home Campaign is an opportunity for young students in order to get their dream internships. In this campaign, there are around 5000+ Internship opportunities available in various domains like marketing, finance, HR, Engineering, etc.
To know more about the campaign read the blog post down below.
Also Read: Google Career Certificate Scholarship Program | Free Google Certification Course | Limited Seats | Apply 23rd April 2022
About Internshala in Internshala Let's Work from Home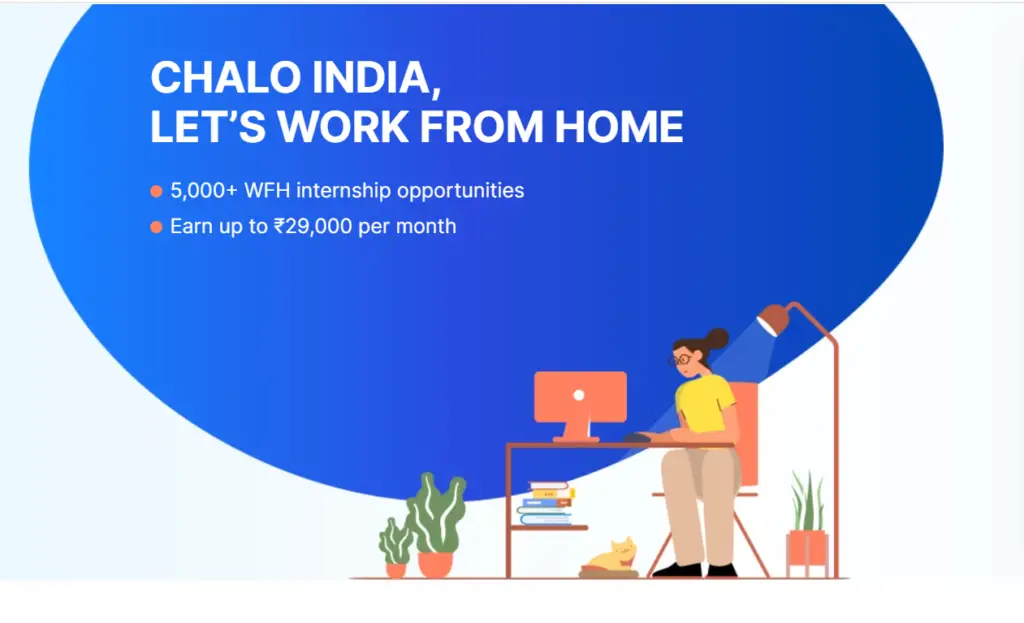 Internshala is a leading internship platform. It helps students get internships and companies find interns. Students can sign up for internships and apply to companies on Internshala.
They can also post their resume, cover letter, and internship proposal on the platform.
Companies can post internships on Internshala to find interns for their organization. They can also search profiles of interns from different universities in India.
Companies can also advertise their openings on Internshala to reach more people who are looking for jobs or internships in that industry.
Also Read: UX Designer Internship Opportunity at Microsoft | Apply Now
What's in it for you?
5,000+ virtual internship opportunities: From engineering to commerce, we have got 5,000+ work from home internship opportunities for you
Guaranteed stipend up to ₹29,000: All internships come with a guaranteed stipend and you can earn as high as ₹29,000 per month
Win rewards up to ₹10,000: Early access contest gives you a chance to apply to internships before others and win rewards up to ₹10,000
Also Read: Microsoft Intern Engage 2022 | Apply by 3rd May 2022
Important Dates
13th- 17th April: Participate in early access contest
18th – 20th April: Apply to internships
Also Read: Internshala Get Set Intern Campaign | 3000+ Paid Internships | Apply Now
Top Rewards
₹10,000 Paytm cash if you get the highest points
Any Internshala training of your choice if you get the 2nd highest points
Also Read: AWS AI & ML Scholarship Program 2022 | Limited Seats | Apply Now
Important Note
People you refer to must complete their email verification
Fake or duplicate entries will not be considered for rewards
Users who have won the referral reward in the past 4 months will not be eligible for this campaign's referral reward
Training reward is only applicable on beginner level non-kit training
Winners of the contest will be announced on 23rd April
Also Read: Google Developer Student Clubs 2022 Registrations Opens | Anyone can Apply | Free Google Swags
How to Apply for Internshala Let's Work from Home?
To apply for internships CLICK HERE
Also Read: Tata Steel Aspiring Engineers Program 2022 | [Stipend of Rs. 30k] | Free Training + Job | Apply Now