Hello folks! If you have skills but want to implement them practically so an internship is the best thing to do so therefore we have an update for you as Internshala Part-Time Pocket Money Internship is launched with a stipend up to ₹1.2 lacs so stay with us till the end of the post to know more details about this initiative.
Also read: AICTE & GOOGLE Virtual Internship Program| Android application development in Kotlin Internship| Free Google Certified Internship| Apply by 31 March 2023
About Internshala Part-Time Pocket Money Internship
This campaign offers part-time internships that only require you to put in two to three hours a day of work from the convenience of your home. You can make up to 1.2 lacs per internship, and stipends are guaranteed in every case. With your exclusive early entry pass, you can begin applying for internships on February 20.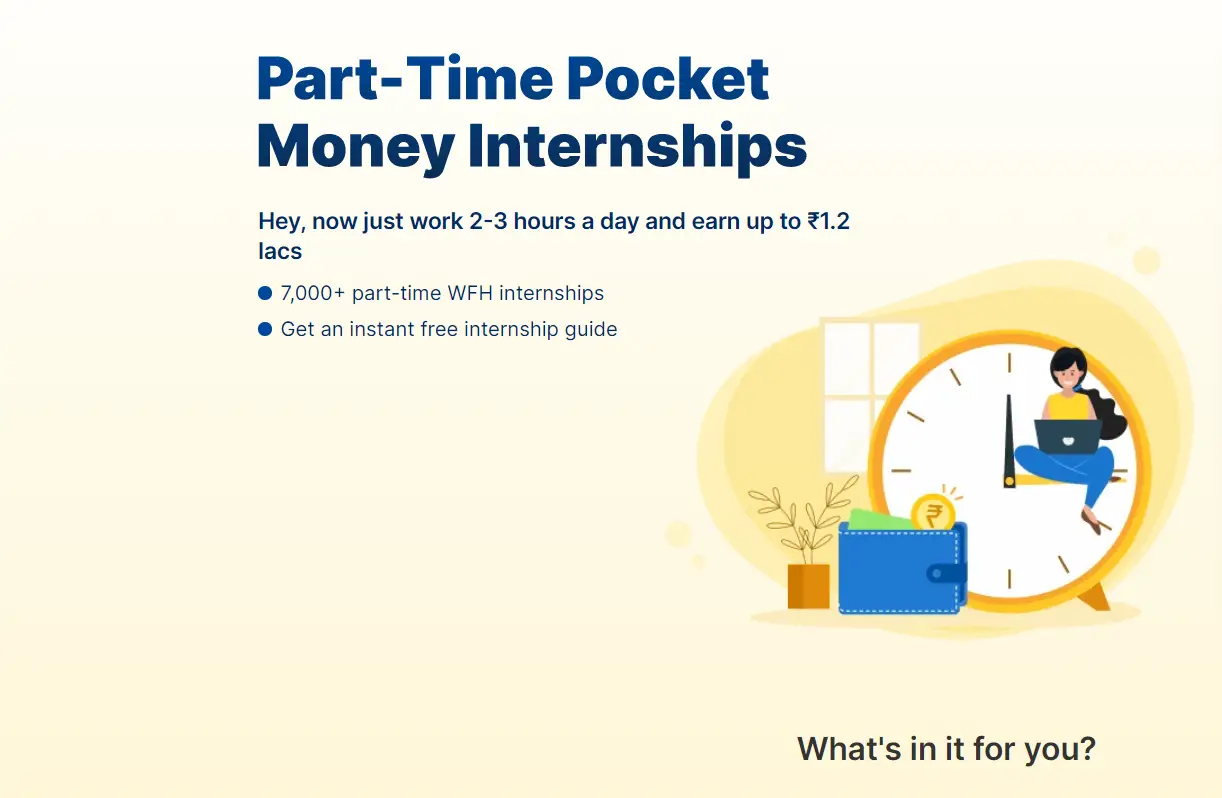 Also read: Internshala Engineering Career Fest| Get stipends up to ₹50,000/month| Chance to Get Job Offer| Apply by 23 Feb
Eligibility Criteria
You are, in fact. Anyone who wants to complete a remote internship can apply.
Important Dates
16th – 20th February: Take part in the Early entry contest & win exciting prizes
21st – 23rd February: Start applying for part-time virtual internship
Also read: IIT Gandhinagar Summer Research Internship Program 2023 | Get a Weekly stipend of Rs. 2000| Apply by 5 March
Benefits of this Campaig
You receive an exclusive early entry pass by participating in the Early entry contest to begin applying for internships before others and a chance to win up to Rs.10k if you have the most referrals.
You have a chance to become financially independent.
All selected interns receive a certificate with a stipend of upto INR 1.2 lacs
Receive a free guide right away with an Early entry contest to discover the strategies for securing every internship.
Details about fees
No, there is no fee associated with applying for internships through Internshala, so it is completely free to do so for all types of internships available on Internshala.
How to apply?
To apply to Internshala Part-Time Pocket Money Internship
Also read: IIT Bombay Internship 2023 | Any Degree & Any College Student | 5 Domain Specific Internship