Hello everyone! If you are searching for an internship in NITI Aayog then we have an update for you as NITI Aayog Certified Internship is launched so stay with us to know in detail about this internship.
Also read: IIT Madras Summer Fellowship Program | Get a stipend of Rs.6000/- per month| Free IIT Certified Internship| Apply by 31 March
About NITI Aayog
The NITI Aayog is the top-tier public policy think tank for the Indian government and the nodal organization charged with fostering cooperative federalism and accelerating economic growth by involving state governments in the formulation of economic policy from the ground up.
Info about NITI Aayog Certified Internship
The updated NITI Internship Scheme has been announced by NITI Aayog, superseding the earlier regulations dated 03-10-2017. This program aims to "intern" students enrolled in accredited colleges and universities in India or overseas who are pursuing undergraduate, graduate, or postgraduate degrees or are research scholars. These "interns" will be exposed to different NITI Aayog Verticals, Divisions, and Units, and they will be expected to support the organization's analytical process by empirically gathering and compiling both internal and external data. The opportunity to learn about how the Indian government operates may help "interns" advance their future goals.
Also read: Elearnmarkets Free Certified Course | Technical Analysis Made Course | Apply Now
Eligibility Criteria
The following requirements must be met in order for bonafide students to be qualified to apply for the internship in India or abroad:-
students pursuing a bachelor's degree who have finished or participated in the term-end exams for the second year's I-4th semester and earned at least 85%, or the corresponding grade in 12th grade.
Graduate students who have successfully finished or appeared in the first-year/second-semester term-end examinations of their post-graduate program, or who are pursuing research or a Ph.D., and who received at least a TOoh or equivalent in their graduation.
the students who took the final test or recently finished
If a student has earned 7 Ooh or more in cumulative grades across all of their graduation/post-graduation years/semesters as of the application deadline, they are also qualified for an internship.
The applicant can register for an internship starting in December if the final exam results are announced in June. The time between the final exam result announcement month and the desired internship month should not be longer than six months.
Benefits
The candidate gets a certificate of internship completion on successful completion of the internship.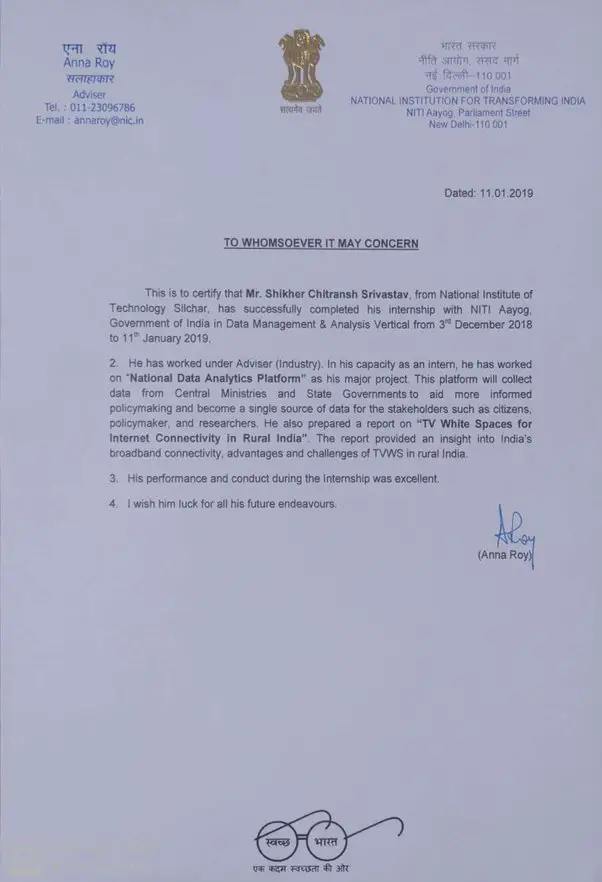 Also read: Colgate's Keep India Smiling Foundational Scholarship & Mentorship Programme| Apply by 31 March 2023
How to apply?
Click on below the button for applying to NITI Aayog Certified Internship
Also read: AICTE & GOOGLE Virtual Internship Program| Android application development in Kotlin Internship| Free Google Certified Internship| Apply by 31 March 2023