Hello friends! Big Company like TCS has come with internship opportunity for students through their recently launched Internship Opportunity so remains with us until the end of the post.
Also read: AICTE Courses & Internship in collaboration with the Ministry of Education & Ministry of skill development
Tables of content
About TCS
Tata Consultancy Services is an Indian multi national information technology services and consulting company with its headquarters in Mumbai. It is a part of the Tata Group and operates in 149 locations across 46 countries.
About TCS Internship Opportunity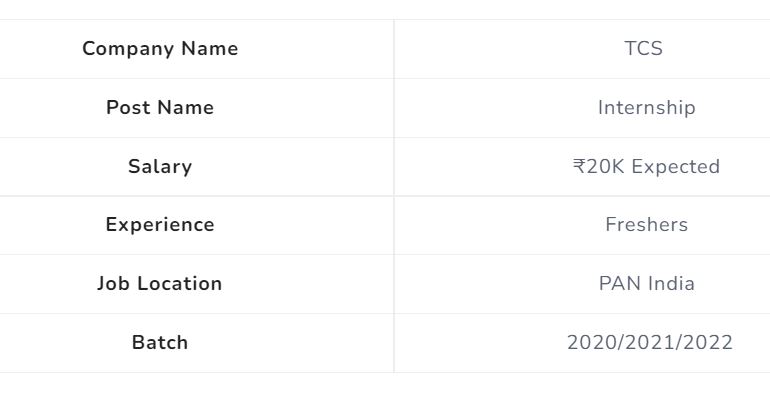 Roles and responsibilities

To conduct research in an industrial R&D environment and solve industry-scale problems under the supervision of senior researchers. The areas of responsibility include:
Creation of R&D-related assets
Define research problems and design solutions for them
Develop prototype solutions by applying industry-scale data
Publish research papers in top-tier conference and journals
Perform literature survey and identify opportunities and challenges
Execute proofs of concept
Contribute to development of tools and products
Learn about emerging trends and technologies in industrial research
Define the challenges involved in applied research
Articulate research problems and systematically design solutions
Eligibility Criteria
PhD, MS, MTech, or final year BE or BTech students with an aptitude for research in any area of computer science.
Master's and PhD students from premier institutes in the fields of psychology, sociology, economics, mathematics, game design, and organisational behavior may also apply.
Preferred skill
Committed to quality, including security and performance
Strong interpersonal, communication, and presentation skills
Benefits of TCS Internship Opportunity
There is a internship completion certificate after successfully completion of internship
Stipend for this Internship is INR 20K.
How to apply?
To apply for the TCS Internship Opportunity CLICK HERE
To view the official notification for the TCS Internship Opportunity CLICK HERE
Also read:Internshala Launched Career Starter Internships | Work From Home Paid Internship