Hello folks! United Nations Organization provides a great opportunity to do a Policy internship through their UNDP(United Nations Development Program's) Policy Internship.
Also, read: AICTE Courses & Internship in collaboration with the Ministry of Education & Ministry of skill development
Tables of content
About UNDP
United Nations Development Programme is a United Nations organization tasked with helping countries eliminate poverty and achieve sustainable economic growth and human development. It is the largest UN development aid agency in New York City, with offices in 170 countries.
About UNDP Policy Internship Opportunity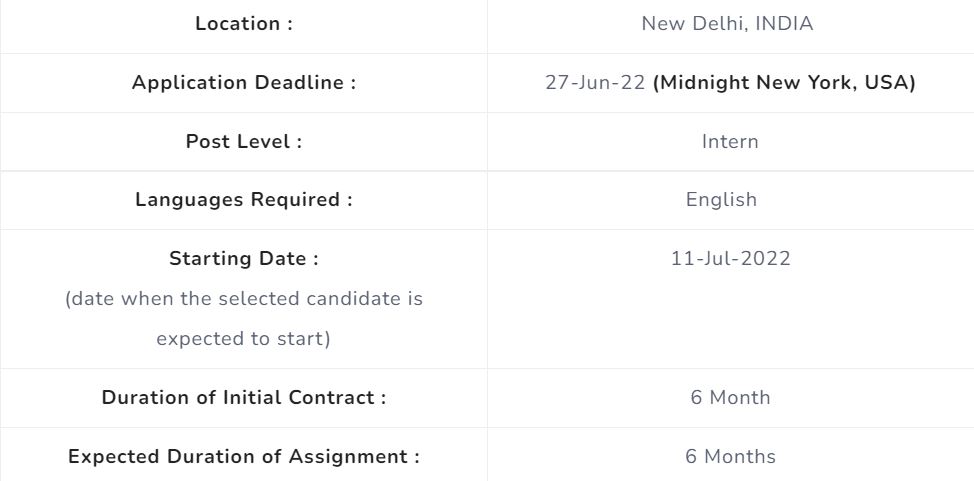 Duties and Responsibilities
Identify, study, and document development datasets available in the public domain to formulate relevant, high-quality, evidence-led strategic policy briefs, notes, and presentations for UNDP and external stakeholders.
Play an active role in proposing and formulating novel concepts aligned with the national development agenda and UNDP India's work domains.
Foster an active learning environment within and outside the team on relevant policy and advocacy topics.
Support ongoing Policy Unit projects through both primary and secondary research along with proper documentation in the form of reports, policy briefs, emails, and concept notes among others. ? Perform additional tasks as allocated by the supervisor
Competencies
Ability to conduct primary and secondary data collection and analysis.
Working knowledge of Microsoft products such as Excel, Word, and PowerPoint is required. Experience with data visualization platforms will be considered an advantage.
Working knowledge of data analysis software such as STATA/R/Python will benefit the ability to learn at a rapid pace as required.
Good knowledge of econometric concepts including, but not limited to, tests of significance, correlations, causation identification, and regression analysis is desirable.
Policy documents – briefs, notes, blogs, op-eds, and presentations – on India's development challenges.
Concept notes on novel identification and estimation strategies aligned to UNDP India's priorities.
Inputs into ongoing Policy Unit projects and support on background research.
Documentation of data sourcing, cleaning, compilation, processing, and analysis along with presentations on a wide range of projects
Required Skills and Experience
Applicants to the UNDP internship program must at the time of application meet one of the following requirements:
The candidate should have a minimum of a bachelor's degree in economics, development studies, public policy, or other relevant social sciences.
Or Candidates in the final year and about to complete a master's degree or pursue Ph.D. in the above academic disciplines can also apply. The candidate must:
Have recently graduated with a university degree (as defined in (a) or/and (b) above) and, if selected, must start the internship within oneyear of graduation.
Or be enrolled in a postgraduate professional traineeship program and undertake the internship as part of this program.
Benefits of UNDP Policy Internship Opportunity
Good opportunity to be an intern in United Nations if selected.
You have a chance to get a UN Internship certificate.
How to apply?
To apply for the UNDP Policy Internship Opportunity CLICK HERE
To view the official notification for the UNDP Policy Internship Opportunity CLICK HERE
Also read: Internshala Launched Career Starter Internships | Work From Home Paid Internship