Hello everyone! If you are searching for Summer Fellowship then we have an update for you as FOSSEE Summer Fellowship 2023 is launched so stay with us till the end of the post to know more about this fellowship.
Also read: IISER Bhopal Summer Internship Program 2023| Free Govt Certified Internship| Apply by April 16
About FOSSEE
The FOSSEE (Free/Libre and Open Source Software for Education) initiative encourages the use of FLOSS resources to raise educational standards in our nation. We want educational organizations to rely less on proprietary software. Through several initiatives, we promote the use of FLOSS tools to make sure that comparable commercial software is supplanted by FLOSS tools. To satisfy the needs of academia and research, we also create new FLOSS tools and update existing ones.
The FOSSEE initiative is an initiative of the Indian government's National Mission on Education through Information and Communication Technology (ICT).

Also read: IIT Madras Summer Fellowship Program | Get a stipend of Rs.6000/- per month| Free IIT Certified Internship| Apply by 31 March
Info about FOSSEE Summer Fellowship 2023
In this fellowship for roughly two months, the students have the chance to work with FOSSEE. The FOSSEE team will provide support and guidance for this remote (proposed) fellowship. Select a topic and a screening task from the table below under the screening task details to be considered for the fellowship. At least one of the screening duties must be finished. Selection will be made solely based on each screening task's evaluation parameters.
Eligibility Criteria
Students from any institution, pursuing any degree, and at any point of their graduation or post-graduation may be chosen for this Fellowship.
The successful completion of a useful undertaking serves as the sole selection criterion.
Students who are interested in being chosen for this fellowship must become familiar with FLOSS and finish some screening tasks.
Also read: Elearnmarkets Free Certified Course | Technical Analysis Made Course | Apply Now
Important Dates
| | |
| --- | --- |
| Last date of Registration | 07 April 2023 |
| Submission period | 31 March – 16 April 2023 |
| Result announcement | 24 April 2023 |
| Commencement of the FOSSEE Summer Fellowship 2023 | 07 May 2023 (tentative) |
| Conclusion of the FOSSEE Summer Fellowship 2023 | Mid-July 2023 |
Benefits
Chance to work together with professors from IIT Bombay
The candidate receives the Certificate of completion from IIT Bombay & Govt of India
The candidate being acknowledged on the FOSSEE page
Depending on the caliber of the work, you might earn an honorarium at the end of the fellowship.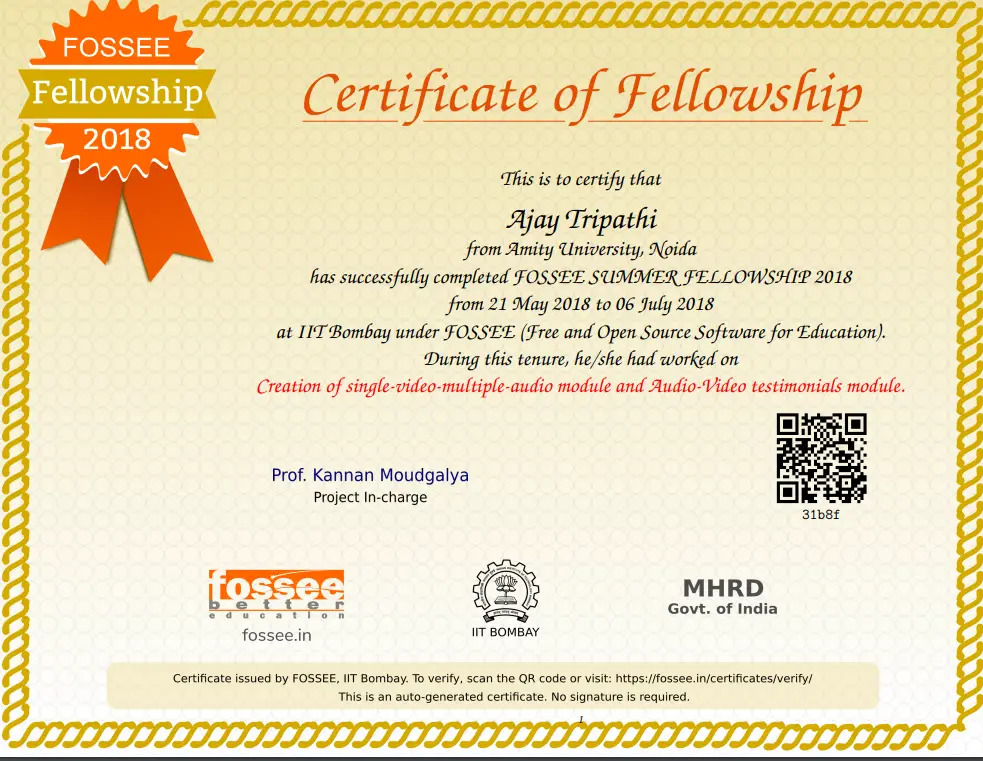 Also read: Colgate's Keep India Smiling Foundational Scholarship & Mentorship Programme| Apply by 31 March 2023
How to apply?
To view the official notification of FOSSEE Summer Fellowship 2023 CLICK HERE
Click on the below button for applying to FOSSEE Summer Fellowship 2023
Also read: AICTE & GOOGLE Virtual Internship Program| Android application development in Kotlin Internship| Free Google Certified Internship| Apply by 31 March 2023