Grow with Google is an initiative from Google in order to encourage people to learn real-world and in-demand skills like UX Design, Data Analytics, Project Management, etc. Google has a partnership with Coursera to provide the Free Google Career Certificate Courses in 2022 to students and working professionals to upskill in 2022. If you directly go here you might have to spend $300 per course. But today we have an amazing opportunity for you as you can get these courses for free by availing a scholarship from Blacks in technology.
Well to know more about the scholarship stay hooked onto the post for more information.
Also Read: Google Cloud Ready Facilitator Program | Get Free Swags and Goodies
About Free Google Career Certificate Courses in 2022
Google Career Certificates create opportunities for nontraditional talent to kickstart their career in IT, user experience design, data analytics, or project management, thanks to our hiring consortium member companies. The programs are product agnostic in such a way that they can help people land jobs at any company, across any sector. Become a participating employer to connect with skilled candidates and grow your talent pipeline.
Also Read: Get Online Internship at Flipkart | Stipend Rs.50k+ | Apply for Flipkart Runway 2022
List of Courses
Data Analytics: Data analysts collect, transform, and organize data in order to help make informed business decisions.
IT Support: IT specialists troubleshoot problems so computers and networks run correctly.
IT Automation: Build on your IT foundations and learn in-demand skills including Python, Git, and IT automation.
UX Design: UX designers make digital and physical products easier and more enjoyable to use.
Project Management: Project managers ensure projects within an organization are managed and completed with maximum value.
Also Read: Microsoft Spring Skill Challenge | Get 5 Free Certification Courses from Microsoft | Get 100% for Certification Exam
Benefits of these Courses
Here one can prepare for a new career in a high-growth field without any prior experience. The Career Certificates program offers professional training designed by Google and the opportunity to connect with top employers.
No experience necessary
Learn at your own pace
Stand out to employers
A path to in-demand jobs
Also Read: IIT Madras Summer Fellowship Program 2022 | Good Opportunities for Engineering Students | Apply by 6th Feb
How to Get a Scholarship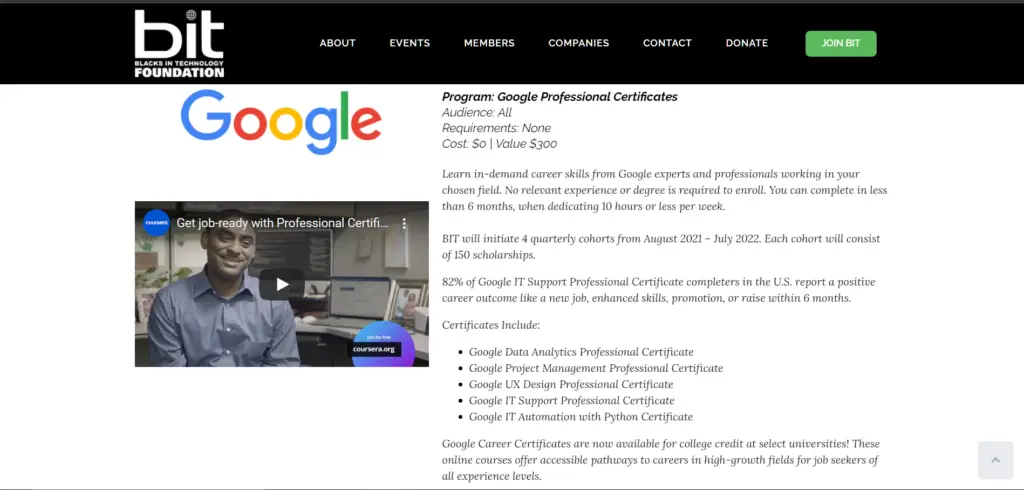 Register yourself for the scholarship by clicking here.
Find Google Professional Certificate
Fill out the form by adding your full name, email, and how Google Professional Certificate can help you?
Select your desired course from the list of 5 (only 1 course)
Select Cohort (As the program give scholarship quarterly)
Click on Submit
Also Read: Internshala #MyFirstSalary Campaign | Get Exclusive Internships and Fresher Jobs
Certificate
Yes, you can a free verified certificate on successful completion of the course.
Also Read: Doubt Expert at Toppr | Part-Time Jobs | Anyone Can Apply
How to Register yourself for Free Google Career Certificate Courses in 2022?
Also Read: Microsoft Cloud & Data Scholarship | Get 150 Fully-Funded Scholarships | Apply by 18th April 2022
Also Read: TCS Digital Hiring – Exclusive Digital Opportunity for the Batch of 2022