Hey Students! Are you looking for free AWS Training from Amazon related to Solutions Architect? If Yes then Amazon has launched its AWS Solutions Architect Virtual Experience Program for Students where they teach the basics and Fundamentals of Solutions Architecture and design a simple, scalable, hosting architecture.
To know more about the benefits and program content stick around with this post for more information.
Also Read: Free Microsoft Azure Virtual Training on 24th Jan 2022: Register Now
About AWS Solutions Architect Virtual Experience Program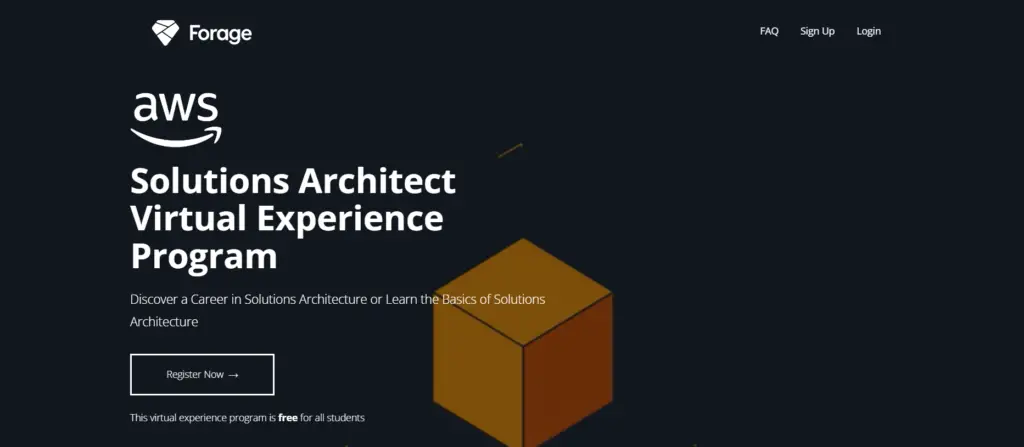 At AWS, they are eager to give you the chance to start exploring what a career in solutions architecture could look like for you! They are excited to open up the world of solutions architecture as a role to you and teach you the basics so that you can decide if solutions architecture is what you want in your future. 
They are also giving you a sneak peek into the AWS hosting architecture design process whilst also teaching you the fundamentals of our global company. You'll familiarize yourself with how our solution architects effectively communicate with clients whilst also learning about our billing structures which are key to providing commercial solutions for our clients all over the world. 
Also Read: Infosys Springboard Project Based Internship Program: Apply Now
What's in it for you?
Ability to take our program in your own time, at your own pace.
Gain marketable skills and experience you can build off of.
Certificate of completion you can put on your resume or your LinkedIn Profile to elevate your employability.
See if a career in solutions architecture is the right fit for you!
Also Read: Audi Environmental Foundation Scholarship 2022: Apply by 25th Jan 2022
Perks of this Program
Do it in your own time
Gain real work Experience
Make your CV and LinkedIn Profile stand-out
Learn Direct from AWS
Discover if this career is for you
Set yourself for the success
Also Read: Android Study Jam Bootcamp From Google | Get Free Badges and Certificate from Google
Certificate
Yes, you get a free verified Certificate from Amazon AWS. This program is self-paced. It takes 1-2 hours to complete this virtual experience program.
Also Read: LIC Announced Free Scholarship For Students | LIC Scholarship 2021 | Golden Jubilee Scholarship Scheme
How to Apply for AWS Solutions Architect Virtual Experience Program?
To apply for this program CLICK HERE.
Also Read: 29 Free Courses on Coursera to Learn Data Science + Free Certificate For Students