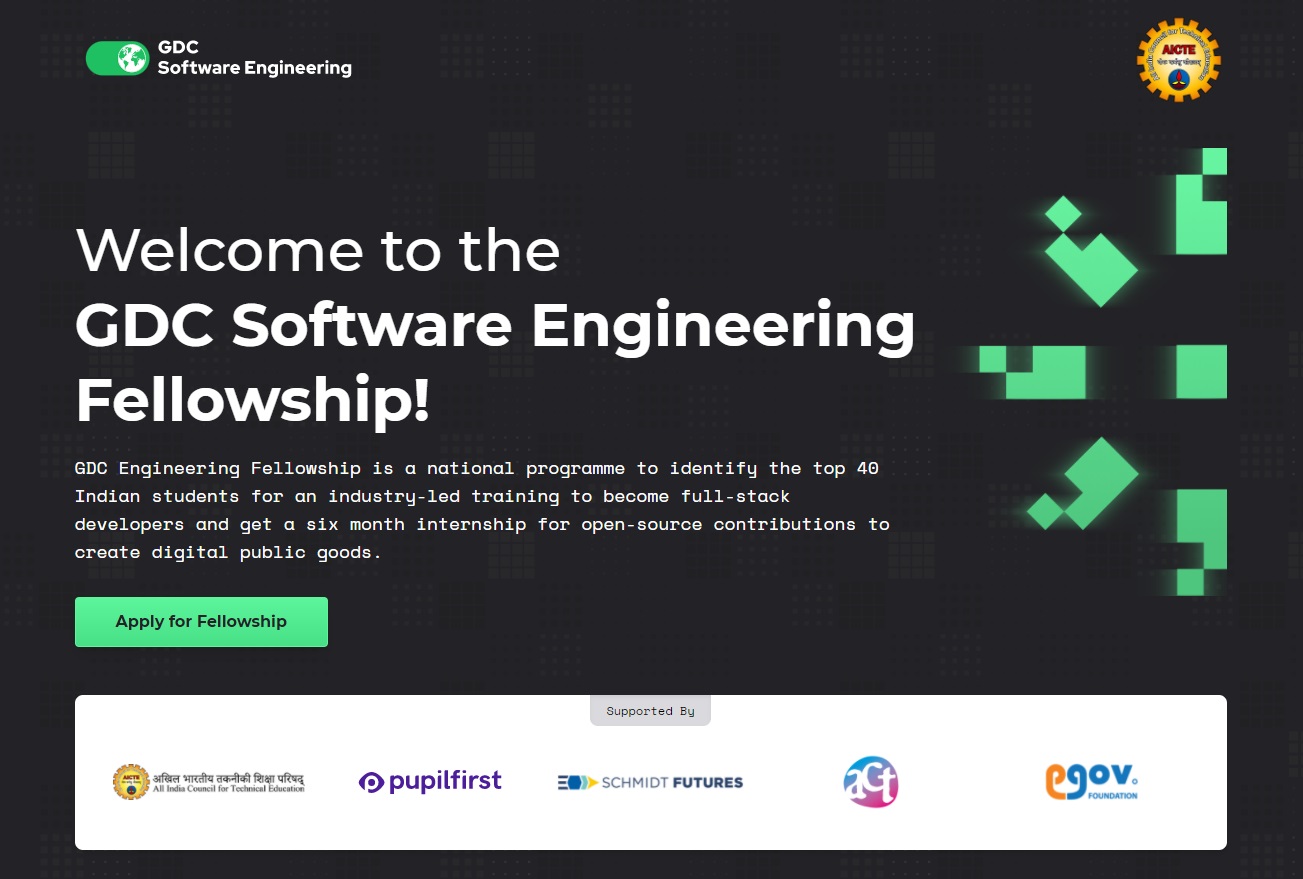 Hey Engineering Students! All India Council for Technical Education (AICTE) in collaboration with Pupilfirstorg has launched the GDC Software Engineering fellowship for students. This is to identify the top 40 Indian students for an industry-led training program. The ones who complete the entire training are eligible to get a semester-long remote internship with CoronoSafe/eGov Foundation to contribute open-source code to further develop this global digital public good.
Also Read: ISRO Free Online Course | Get Free Certificate
This news was announced on Twitter from "AICTE in collaboration with pupilfirstorg has launched GDC Software Engineering Fellowship to identify brightest software engineering students in India for an industry-led training cum internship program."
About AICTE GDC Software Engineering fellowship
GDC Engineering Fellowship is a national program to identify the top 40 Indian students for industry-led training to become full-stack developers and get a six-month internship for open-source contributions to create digital public goods.
Also Read: Internshala Student Partner 26 | Part Time Job For Students | Earn Money
Objective
The programme aims at creating a cadre of trained software engineering students for the development and deployment of digital public goods.
Eligibility
Must be a current Undergraduate or Postgraduate student in any course at a higher education institution in India within the age group 18-25
You should have written at least some amount of code yourselves before, either on personal projects or college projects.
Important Dates of AICTE GDC Software Engineering fellowship
January 07,2022 – April 08,2022. 6-month internship with eGovernment Foundation thereafter for successful candidates.
The last date to apply for the fellowship program is December 26, 2021.
Also Read: Zomato Work From Home Internship | Stipend up to 15000 per month: Apply Now
Course Outcome
Learn industry-standard practices for programming and product development.
Learn the basic concepts of web development.
Strengthen Python and Typescript skills.
Develop basic knowledge of Databases and how to operate them.
Fundamentals of React, Typescript, and the Django Framework.
Understanding and building modern applications within the Django Web Framework.
Basics of deployment and scaling web applications.
Roles & Responsibilities
160 hours of highly enjoyable study & programming.
You just have to dedicate 12 hours a week throughout the total duration of training (13 Weeks).
Self-paced learning via video tutorials, but between specified programming assignment dates.
Weekly sessions with mentors and fellow students, AMAs with industry veterans, code reviews, and dedicated Q&A forum.
Python, Django, React, Typescript. Relax! You'll learn all these in the course and no prior knowledge of them is required.
Also Read: Software Student Training in Engineering Program (STEP) Intern 2022 by Google (10-12 weeks): Apply by 10 Dec 2021
Certificate
Yes, A National Fellowship Certificate is issued by the All India Council for Technical Education and Industry for graduates.
How to Apply for AICTE GDC Software Engineering Fellowship?
To apply for this program CLICK HERE.
Note: Ten scholarships are reserved for women to promote gender balance in this programme.