Hello everyone! If you missed a chance to get google swags in a previous event then do not worry about it as Google Cloud Fly Cup Challenge is launched in which you get a chance to win google swags so stay with us to know more about this challenge.
Also read: IBM Summer 2023 Internship Program| Project & Stipend Based Internship| Apply by 14 November
About Google Cloud Fly Cup Challenge
Join this learning challenge to increase your knowledge of Google Cloud, which is being offered in collaboration with the Drone Racing League. The Google Cloud Fly Cup Challenge is a three-stage developer competition that aims to advance cloud expertise and promote innovation in the drone racing industry. Participating developers can use DRL race data to predict race outcomes and offer advice to DRL Pilots to improve their season performance while earning exclusive swag, prizes, and the opportunity to win a trip to the DRL 2022–23 World Championship season finale that Google will fund.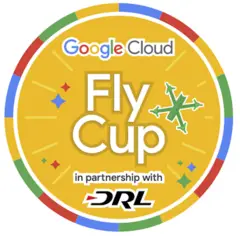 Eligibility Criteria
It is open to everyone who wants to participate for enhancing skills with a chance of receiving Google swags.
Also read: Free Govt Certified Course| IIRS & ISRO's 5 days Certification Course| Geo-data sharing and Cyber Security| Apply Now| Limited Seats
Stages Google in Cloud Fly Cup Challenge
Google Fly Cup Challenge: Recruit
Google Fly Cup Challenge: Pilot
Google Fly Cup Challenge: Champion
Important Note
This stage 1 challenge is to be finished by 10 October but the sooner you do, the more chances you will have of coming in the top 50
Also read: Trending Cloud Certifications Courses & Platforms to Start Your Cloud Career
Benefits and perks for Stage 1 & 2
In stage 1(Recruit), Top fifty scores: One customized co-branded DRL x Google Cloud item per winner (retail value: about $50 of received swags).
The first 500 contestants who finish Stage 2 will get vouchers to download DRL's Simulator on Steam (retail value: $9.99 of received swags) in Stage 2 (Pilot).
Top 25 scores: One article of co-branded customized DRL x Google Cloud merchandise (approximate retail value of $100 per winner of received swags) in Stage 3 (Champion).
Before the completion of the 2022–2023 racing season, the top three scorers will have the chance to virtually present their Contest results to DRL Pilots in Stage 3 (Champion).
Perks & Benefits of stage 3
Prizes received by the top scorer are:-
Grand Champion receives an exclusive trip to a DRL Championship Race in early 2023 and special treatment there (retail value up to $5,000).
The prize package may include up to $3,500 in i) one-way domestic flight travel for one person to and from a DRL race event and (ii) two nights of hotel lodging.
Grand Champion receives an equivalent reward value from DRL if he or she is unable to attend the DRL Championship race in early 2023.
The Grand Champion is recognized as the winner of the Google Fly Cup Challenge at DRL's 2022-2023 Championship race
Also read: OnePlus Student Ambassador Program | Stipend, Free OnePlus Devices & Merchandise For Students
Dates to Remember
Stage 1, 2, and 3 winners receive an email on or about October 10, December 1, and January 1, 2023, respectively
How to apply?
To apply to the Google Cloud Fly Cup Challenge CLICK HERE
Also read: Free TCS MasterCraft DataPlus Certification Course| Apply Now