Are you struggling with Microsoft Excel? Well, many students do struggle with it as it is a high level of complexity for understanding the complex formulas. What if we say to you that you can learn Excel by working on real-life projects? That sounds cool, right? This might be a wonderful opportunity for you to have a good impression on your resume. Goldman Sachs – Investment banking company has announced its exclusive virtual experience program called Excel Skills for Business.
Here you can learn Microsoft Excel by working on real-life projects that happen in the Business World. This program from Goldman Sachs is in collaboration with Forage Platform where you can avail various virtual experience programs to upskill yourself.
To know more about the course just stay hooked on the post.
Also Read: IIT Madras Summer Fellowship Program 2022 | Good Opportunities for Engineering Students | Apply by 6th Feb
Also Read: Internshala #MyFirstSalary Campaign | Get Exclusive Internships and Fresher Jobs
About Excel Skills for Business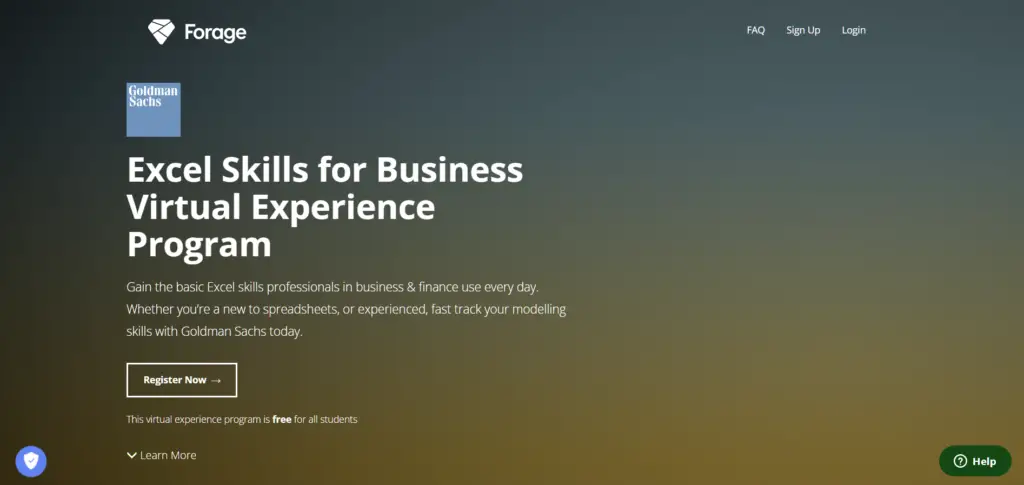 You will learn like you with one of the most critical skills any professional in any industry should have: the ability to use Excel & spreadsheets.
With Excel and spreadsheets, professionals at Goldman Sachs can advise on some of the most transformative deals and business projects in the world – with some being in the hundreds of billions of dollars.
Throughout this job simulation and course, you'll familiarize yourself with some of the tricks, patterns, and tools professionals at Goldman Sachs use every day at work.
Also Read: Free Google Career Certificate Courses in 2022 | Get 100% Scholarship on any Courses
Also Read: Doubt Expert at Toppr | Part-Time Jobs | Anyone Can Apply
Program Content
Basic Excel Skills: Understand key shortcuts and functionalities in Excel related to banking and finance

Formatting, Comments, and Naming

Forecasting Operating Assumptions: Understand the common ways to forecast operating assumptions

Assumptions
Financial Forecasting
Microsoft Excel

Translating Assumptions to the P&L: Understand how to build a simplified profit and loss statement

Income Statement
Microsoft Excel

Forecasting Cash Flows: Understand how the P&L translates to Cash Flow Forecasting

Cash Flow Modelling
Microsoft Excel

Creating Outputs in Excel: Understand how to produce presentable outputs in Excel
Also Read: Google Cloud Ready Facilitator Program | Get Free Swags and Goodies
Also Read: Microsoft Cloud & Data Scholarship | Get 150 Fully-Funded Scholarships | Apply by 18th April 2022
Benefits
Do it in your own time: Fit the Goldman Sachs Excel Skills for Business Virtual Program in with your busy schedule. Learn at your own pace and reach your personal goals.
Earn a Certificate: When you complete the Goldman Sachs Excel Skills for Business Virtual Program, you'll earn a personalized completion certificate to share with prospective employers and your professional network.
Discover if this career is for you: Nearly 50% of the hours you are awake are spent at work. Discover if this is the right career path is for you.
Set yourself up for success: No more applying for jobs without knowing what the role involves. Build the confidence and practical skills that employers are looking for.
Gain real work experience: Throughout the Goldman Sachs Excel Skills for Business Virtual Program, you'll develop deep insights into what it is like to work at Goldman Sachs.
Make your CV and LinkedIn stand out: You'll be able to include this experience on your CV and Linkedin profile. Demonstrate that you're ambitious, hardworking, and have developed valuable practical skills.
Also Read: Get Online Internship at Flipkart | Stipend Rs.50k+ | Apply for Flipkart Runway 2022
Also Read: TCS Digital Hiring – Exclusive Digital Opportunity for the Batch of 2022
How to Apply for Excel Skills for Business?
To Register for the Program CLICK HERE.
Also Read: Microsoft Spring Skill Challenge | Get 5 Free Certification Courses from Microsoft | Get 100% for Certification Exam
Also Read: IIT Ropar Virtual Summer Internship 2022 | Apply by 15th April