Hello everyone! Are you passionate/willing to learn new skills or want to upgrade your knowledge? If yes then in this post we will tell you a way to skill up your knowledge as Forage is time to time launches a great opportunity to skill up your knowledge and this time Forage collaborated with Tata to launch a free certified course by the name Tata Data Visualisation: Empowering Business with Effective Insights Program.
For more details about this program, you have to stay till the post is over.
Also read: Government of India Offering FREE Certificate for Everyone | #harghartiranga #digitalflag
About Free Certified Course by Forage & Tata
Tata Group is a global conglomerate that operates in more than 100 countries across six continents, with a mission 'To improve the quality of life of the communities we serve globally, through long-term stakeholder value creation based on Leadership with Trust'. With a revenue of $128 billion (INR 9.6 trillion) in 2021-22, the companies collectively employ over 935,000 people. Tata enterprises include 29 publicly listed companies, many being market leaders in their industries.
This program is with one of our companies, Tata Insights, and Quants or Tata iQ which helps to gain insight into how our passionate multi-disciplinary experts solve some of the most complex business problems using data visualization solutions, such as Tableau and Power BI, and create amazing stories which are hidden under the mountains of data generated.
The application will aim to simulate the difficulties you would encounter while demonstrating the types of issues dealt with daily at Tata Insights and Quants.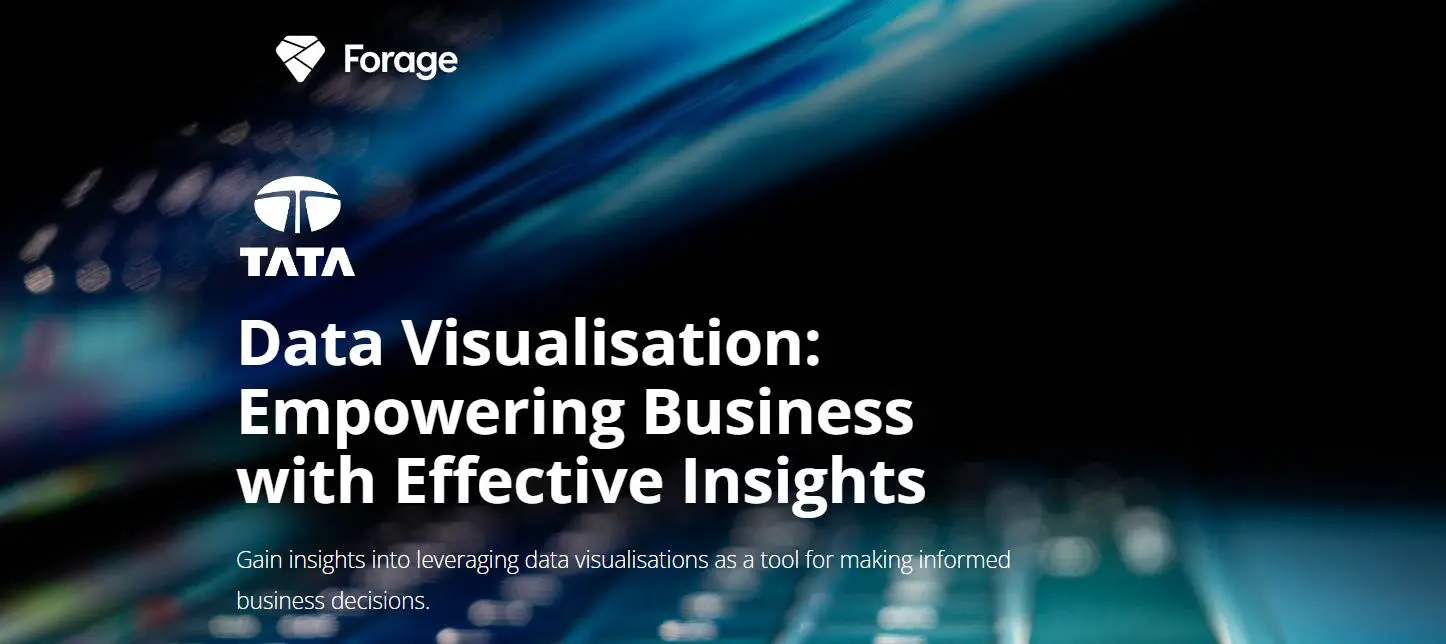 Topic covered
Framing the Business Scenario-Learn how to anticipate the questions your business leaders will need answers to
Choosing the Right Visuals-Learn which visuals are most effective in a given scenario
Creating Effective Visuals-Apply your under and create visuals based on business scenarios
Communicating Insights and Analysis-Effectively communicate your findings and explain how it relates to each scenario
Also read: IET India Scholarship Awards 2022 | Special Scholarship for Engineering Students
Benefits of Free Certified Course of Forage & Tata
It's up to you to use that power. To identify out, choose to showcase your work and profile with the Cognizant HR staff.
You spend almost half of your awake time at work. Explore if this is the best career choice for you.
Fit the Data Visualisation: Empowering Business with Effective Insights Programme in your busy schedule. Learn at your own pace and reach your personal goals.
Opportunity to learn from top leaders of Tata– This Program is basically developed by top leaders of Tata Company. The team will provide you with guidelines, and you can compare your work to actual Tata model solutions.
Yes, definitely all participants will get a free verified certificate but when you complete the Data Visualisation: Empowering Business with Effective Insights Programme, you'll earn a personalized completion certificate to share with prospective employers and your professional network.
How to apply?
To apply to Tata Data Visualisation: Empowering Business with Effective Insights Program CLICK HERE
To view the official notification of Tata Data Visualisation: Empowering Business with Effective Insights Program CLICK HERE
Also read: Flipkart Internship Drive| Tele recruiter Intern Internship| Apply Now