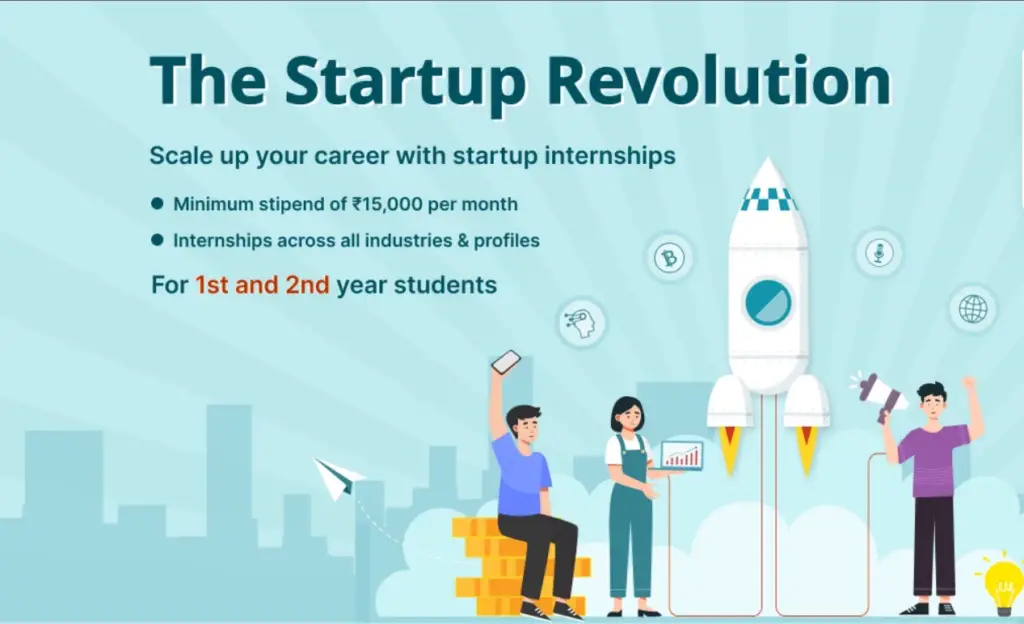 Hey Students! Internshala The Startup Revolution Campaign has been launched where 1st and 2nd-year students can apply. Here Students can receive a Minimum stipend of Rs.15000/- per month.
To know more about this read the post below.
Also Read: 8 Free Digital Marketing Courses from Accenture to upskill yourself
About Internshala The Startup Revolution Campaign
India added 36 startups to the unicorn club in 2021, the highest in a decade. A big bunch of startups is also in the queue to soon join the club. We are thrilled to announce the opportunity to be a part of the Startup Revolution and join the success streak. These internships will offer experiential learning to empower you with skills and to make you future-ready.
If you have a thirst for knowledge and want to be a part of innovation and change, this is just your place to get started.
So what are you waiting for? Be a part of the winning club and make your presence felt!
Also Read: Swiggy Free Certification Course – Become Certified From Swiggy
What's in it for you?
Reach for the stars: Kickstart your career with startup internship opportunities and get a chance to be a part of the next unicorns of India
Explore the unexplored: From Fin-tech, creative, to the IT industry, and profiles like web development, graphic designing, finance, this campaign have got you covered through all!
Stipend Bonanza: A minimum stipend of INR 15,000 per month to start your career with what you deserve
Join the bandwagon: Vineet Nayyar and Aakriti Chopra earned a huge wealth by way of ESOPs in Tech Mahindra and Zomato respectively. With the opportunity of PPO Internships and having ESOPs with some of these startups, you could be the next in line!
More, the merrier!: The rewards don't stop here…get a chance to win early entry and other exciting rewards worth ₹10,000 on participating in the Early Entry Contest!
Also Read: Microsoft AI Revolution Workshop | Get Free Swags and Certificate
Important Details
16th- 20th December: Participate in Early Entry Contest
21st – 23rd December: Apply to the internships
How to Apply for Internshala The Startup Revolution Campaign?
To participate in this Campaign CLICK HERE.
Also Read: Grand Winter Internships Carnival from Internshala: Apply Now