Hello folks! If you love to provide solutions to real-world problems then we have exciting news for you as HP Solve 2023 Program is launched in association with Internshala so stay with us until the end of the post to know in detail about this program.
Also read: AICTE & GOOGLE Virtual Internship Program| Android application development in Kotlin Internship| Free Google Certified Internship| Apply by 31 March 2023
About HP
HP Inc. is a multinational information technology corporation based in Palo Alto, California that manufactures personal computers, printers, related supplies, and 3D printing solutions.
The present corporation was founded in 2015, following the separation of the original Hewlett-Packard Company's personal computer and printer divisions, as well as its enterprise product and business services divisions.
Info about HP Solve 2023 Program
Do you have the entrepreneurial zeal and agility to tackle real-world issues? Then come and solve to build experiences that will wow you! HP Solve is India's largest case study competition, created particularly for tomorrow's trailblazers to promote real innovation. The tournament, which consists of two rounds, is designed to give students with a learning experience that promotes healthy competition, professionalism, and interaction among our future business leaders.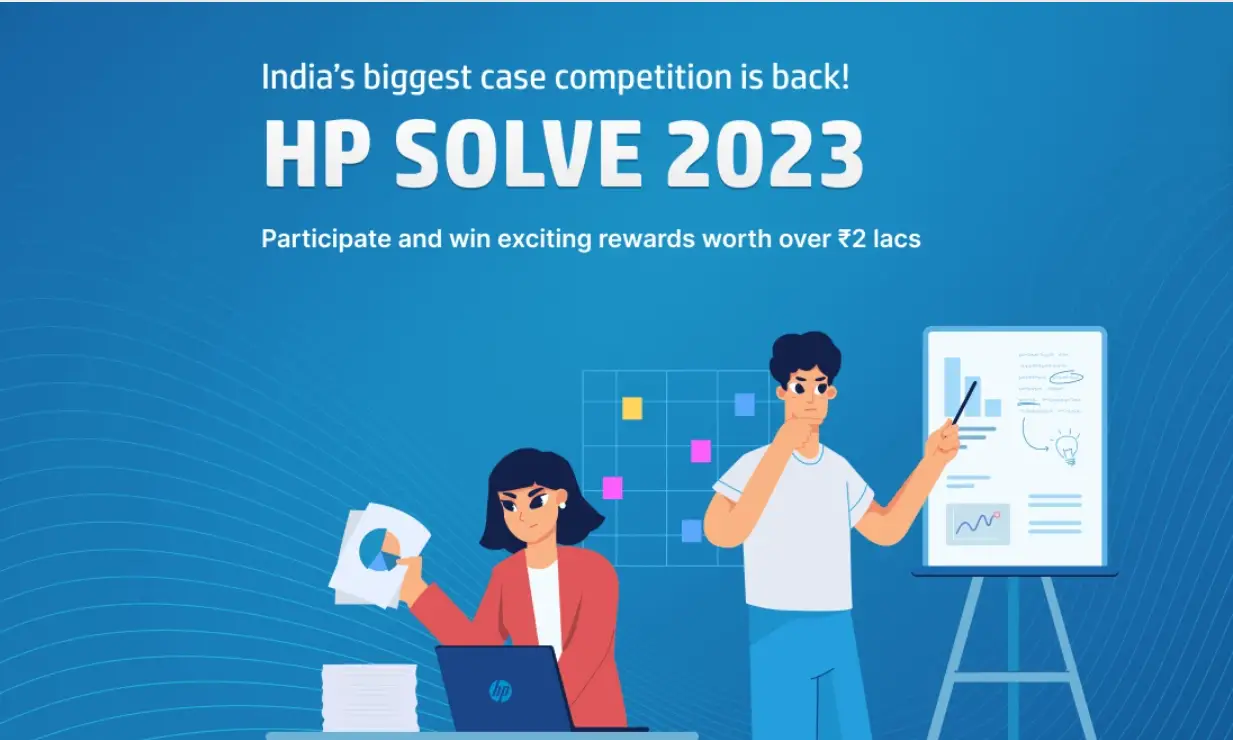 Also read: NIT Rourkela Summer Internship Program| Apply by 28 March
Program Structure
The program is divided into two rounds:
Round 1: Students will already have access to the case study and will be required to produce a summary of their solution path. For the final round, HP will evaluate you based on your grasp of the problem description and how you intend to complete the project.
The deadline is March 28th.
Round 2: In the last round, the student must present a detailed final answer to the case study that was assigned initially.
The deadline is April 22nd.
Eligibility Criteria
BTech students in their third and fourth years majoring in Computer Science, Electronics and Communications, and related subjects can be eligible for this program.
Also read: Infosys Springboard Young Professional Certification Series| 6 Free Certification Courses Series| Apply Now
Benefits
By entering the Early access contest, you can get a case study ahead of the competition and have a chance to win up to Rs. 5,000 if you receive the most referrals
The 1st place winner receives an HP Spectre/Omen laptop as a reward
The top 5 runner-ups will get an HP Envy 24 monitor
Priority for internship interviews for next year at HP will be given to the top ten runner-ups
Important dates
3rd March:- Early access window live
9th March:- Case study live
28th March:- Round 1 submission deadline
22nd April:- Final round submission deadline
How to apply?
To apply to HP Solve 2023 Program
Also read: IIT Gandhinagar Summer Research Internship Program 2023 | Get a Weekly stipend of Rs. 2000| Apply by 5 March