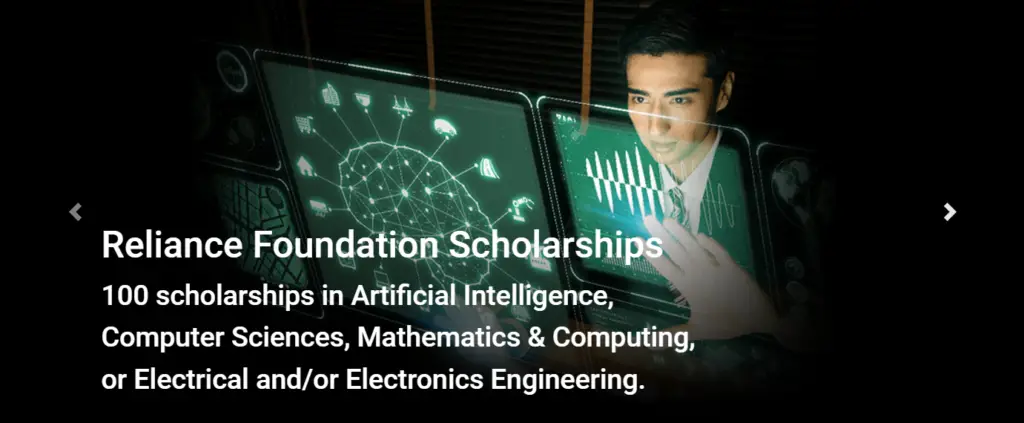 Hey Students! It's already 2022 and today we have the first scholarship where you can get good benefits if you just started college or pursuing your post-graduation. Reliance Foundation Scholarships 2022 has just started where you participate and get a good amount for your higher studies.
To know more about this stick around with this post for more information.
Also Read: Internshala Student Partner 27: Apply by 19th Jan 2022
About Reliance Foundation Scholarships 2022
As we step into the fourth industrial revolution, India has the opportunity not just to catch up with other world leaders, but to emerge as a global leader itself.
India has the unique advantage to harness enormous capital for technology-driven development which is bottom-up and inclusive, because of our twin strengths of demographics and democracy. Our industry, our youth, the entire nation are ready to embrace and promote new technologies for a strong, sustainable, and equitable new India.
Reliance Foundation will identify and support 100 of India's brightest undergraduate and postgraduate students with a generous grant award and a strong development programme that will nurture their skills to innovate for social good. The Reliance Foundation Scholars will be poised to lead and be at the forefront of India's technological growth.
First-year undergraduate and postgraduate students from institutes across India pursuing degree programmes in Artificial Intelligence, Computer Sciences, Mathematics and Computing, and Electrical and/or Electronics Engineering are eligible to apply. Reliance Foundation will also nurture and support these bright students with a holistic development programme, including expert interactions, industry exposure, and volunteering opportunities creating a cohort of excellence, every year.
Also Read: 4 Latest Google Jobs for College students in 2022
Features of Scholarship
Nurturing India's talented youth who have the potential to become future leaders of tomorrow for the benefit of society.
The Reliance Foundation Scholarships will identify and select the best and brightest students in India through a rigorous and competitive selection process.
We welcome applicants from all socio-economic backgrounds and scholarships will be granted based on merit.
Up to 60 undergraduates and 40 postgraduate scholars will be selected.
At the undergraduate level, the total amount of scholarship available throughout the degree programme, will be up to Rs/INR 4 Lakhs.
At the postgraduate level, the total amount of scholarship available throughout the degree programme, will be up to Rs/INR 6 Lakhs.
80% of the funds will be granted in advance at the start of each academic year, to use for tuition and direct academic expenses. The remaining 20% of the funds will be granted upon request to support professional development, including indirect academic and personal development expenses, including conference-related expenses.
Scholars will also benefit from additional engagement and development activities (including the chance to attend talks and workshops with leading global experts, opportunities to apply for mentoring/internships, volunteering opportunities, a strong alumni network, and more), and will join a vibrant community of scholars that will be at the forefront of creating and building a new India.
Also Read: ISRO Free Online Course on Geoprocessing using Python Certificate: Apply by 17-28 Jan 2022
Eligibility Criteria
Reliance Foundation invites first-year undergraduate and first-year postgraduate students who are enrolled full-time in an eligible degree programme (in Artificial Intelligence, Computer Sciences, Mathematics, and Computing, or Electrical and/or Electronics Engineering) to apply.
Students who are selected for the Undergraduate Scholarship can avail of other partial scholarships.
At the Postgraduate level, scholars will be required to provide details of any financial benefits from other sources. The Scholarship programme policy will permit stipends from other sources of up to a maximum of Rs 15,000 per month during the scholarship period.
Note: You also need to pass the eligibility questionnaire by answering some questions.
Also Read: 100% Free Financial Market Expert Course From Elearnmarkets | Free Course For Trickyman Subscribers
Procedure to Apply for Reliance Foundation Scholarships 2022
To start your application, you will need to fill the online Eligibility Questionnaire below.
If you fulfill the eligibility criteria, you will be sent an email invitation with log-in information to apply through our application portal.
Applications will open through our Application Portal and will close at 11:59 pm IST on Monday the 14 th February 2022
Application components:

Personal, Academic and Extra-curricular details
Two Letters of Reference: One that attests to your academic capabilities and one that attests to your character and leadership traits
Two Essays: Personal Statement and Statement of Purpose
Shortlisted candidates will be invited to attend a virtual interview
The selection of Scholars will be announced in June 2022
To apply for this scholarship CLICK HERE
Also Read: Ninja Entrepreneur Programme from Coding Ninjas | Good Part-Time Earning for Students