Hello friends! If you are searching for a campus ambassador program then we have an update for you as ISP Program (Internshala Student Partner Program) is launched to get Internshala training for free and many more rewards upto Rs.7 lacs with other benefits
See our below post to know more about this program.
Also read: AICTE & GOOGLE Virtual Internship Program| Android application development in Kotlin Internship| Free Google Certified Internship| Apply by 31 March 2023
About ISP Program
A 35-day transformational journey that will teach you practical skills like marketing, communication, and leadership while helping your college students achieve their professional aspirations.
ISP Responsibilities
Organize seminars on campus and disseminate the Internshala spirit.
Internshala Training can assist in the upskilling of your college students.
Use your online presence to modernize Internshala Trainings.
Also read: IIT Madras Summer Fellowship Program | Get a stipend of Rs.6000/- per month| Free IIT Certified Internship| Apply by 31 March
ISP Eligibility Criteria
Students from all colleges, with all academic backgrounds, and in all streams are eligible to apply for the ISP program.
Students who are interested in marketing and networking and want to feel the energy of a business in growth can apply for this program.
Internshala Student Partner Duration
The ISP Program is a work-from-anywhere initiative that runs from April 6 to May 10, 2023.
ISP Benefits
Selected candidates get a chance to attend 5+ Masterclasses & Webinars in which they interact with industry leaders for exponential career-growth
If selected then you have an opportunity to participate in 15+ Exciting contests in which you can Become The Next Rocket Singh By Learning The Art Of Marketing And Selling
Chance to receive Cash Rewards up to Rs.7 lacs to fulfill your financial needs
You will receive an ISP completion certificate if you complete the Internshala Student Partner program successfully.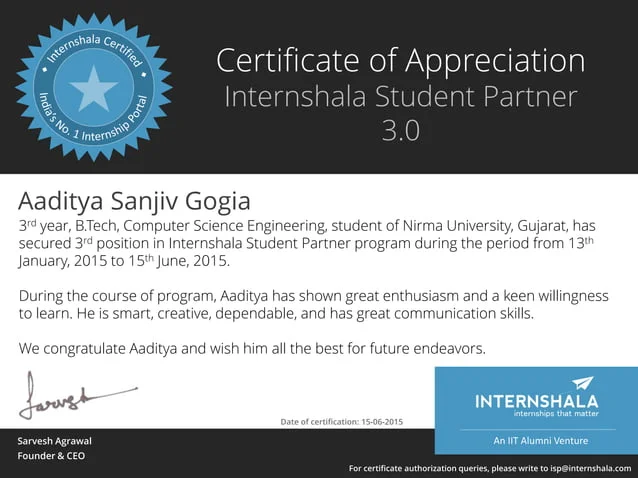 How to Apply for Internshala Student Partner Program?
To apply to ISP Program
Also read: Infosys Springboard Young Professional Certification Series| 6 Free Certification Courses Series| Apply Now