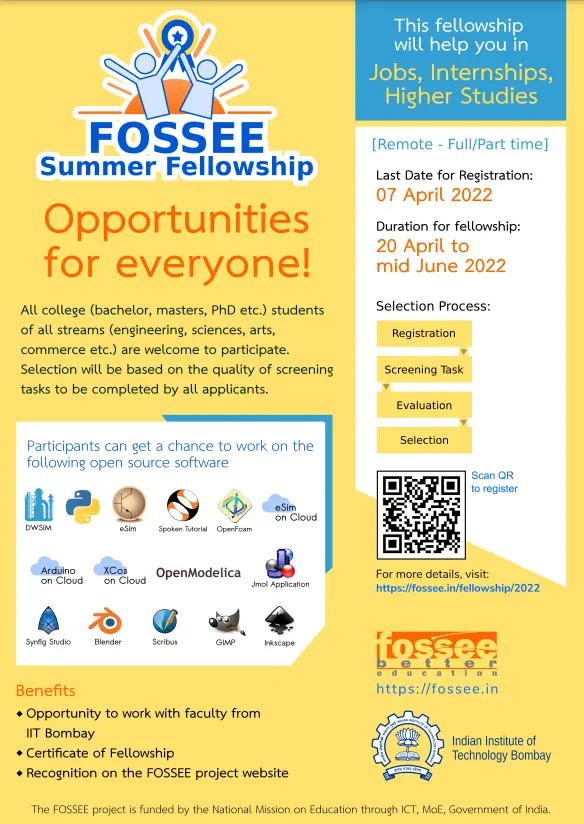 FOSSEE is a program from IIT Bombay. Recently there is a buzzword around the Internship opportunity here. So FOSSEE Summer Fellowship 2022 is out now where you learn with IIT Bombay faculty by doing an Internship. The best part here is this it is a work-from-home opportunity which means you can work in your comfort zone.
To know more about the FOSSEE program stay hooked onto the post.
Also Read: IIM Shillong Internship Opportunity at Dr. Kalam Centre | Get Stipend Rs.25000/-
About FOSSEE Summer Fellowship 2022

FOSSEE invites applications for the FOSSEE Summer Fellowship 2022. The students get an opportunity to work with FOSSEE for approximately 2 months. This is a remote fellowship with continuous support and mentoring.
To get shortlisted for the fellowship, Select a project and choose a screening task from the table given below. Then you need to complete at least one of the screening tasks. The selection will be purely based on the evaluation criteria of each screening task.
Also Read: Summer Internships Offered IIIT-Delhi 2022 | Various Projects |Get 5K Stipend
Important Dates
| | |
| --- | --- |
| Last date of Registration | 7 April 2022 |
| Last date of Submission | 11 April 2022 |
| Result announcement | 18 April 2022 |
| Commencement of the FOSSEE Summer Fellowship 2022 | 20 April 2022 |
| Conclusion of the FOSSEE Summer Fellowship 2022 | Mid-June 2022 |
Also Read: Excel Skills for Business | Virtual Experience Program | Goldman Sachs
Eligibility Criteria
Students who want to be for this Fellowship can be from any college, pursuing any degree, and at any stage of their graduation/ post-graduation.
The only criterion for selection is the successful completion of a useful project.
For selection, the students for this Fellowship have to learn Free/Libre and Open Source Software (FLOSS) and complete some screening tasks.
These tasks can involve programming/ scientific computing/ conducting awareness workshops/ collecting data that will be of use to the community.
These screening tasks are not complex and can be done over two to four weeks.
Also Read: Free Google Career Certificate Courses in 2022 | Get 100% Scholarship on any Courses
Rules and Regulations
Selected FOSSEE Fellows' names will be displayed on the FOSSEE website, alternately they shall also receive an email regarding the selection on their registered email id. So it is important to fill in the correct details in the registration form.
Once the Fellowship starts, every FOSSEE Fellow will be assessed every week based on the quality and quantity of the work. At any point, if the work is found unsatisfactory, the fellowship offer will be withdrawn.
Also Read: Google Cloud Ready Facilitator Program | Get Free Swags and Goodies
Selection Procedure
To register Please select one of the projects from the table given below and fill out this form to register.
The submitted task will be reviewed by experts/ mentors from the FOSSEE team.
After the review, the top submissions will be selected. The results of the selected fellows will be out on the website.
The fellows will get the flexibility to work full-time (8 hrs a day) or part-time (4 hrs a day) during the fellowship.
Also Read: Get Online Internship at Flipkart | Stipend Rs.50k+ | Apply for Flipkart Runway 2022
Benefits
Opportunity to work with faculty from IIT Bombay
Certificate of Fellowship
Recognition on the FOSSEE website
Note: At the end of the fellowship you may receive an honorarium depending on your quality of work.
Also Read: Microsoft Spring Skill Challenge | Get 5 Free Certification Courses from Microsoft | Get 100% for Certification Exam
How to Apply for FOSSEE Summer Fellowship 2022?
Also Read: IIT Madras Summer Fellowship Program 2022 | Good Opportunities for Engineering Students | Apply by 6th Feb