Hello, friends! If you are looking for an internship in top emerging technologies like Block Chain, IoT, etc then we have an exciting update for you as Digital India Internship Scheme is launched which is an initiative by NIC & govt of India so stay with us to know more in details about this scheme.
Also read: IISER Bhopal Summer Internship Program 2023| Free Govt Certified Internship| Apply by April 16
Purpose of the Digital India Internship Scheme
An internship is a chance for a student to gain first-hand, practical work experience while being supervised by a knowledgeable and experienced supervisor or mentor.
By experimenting and applying the knowledge learned in the classroom, it also attempts to promote active participation in the learning process.
Also read: Elearnmarkets Free Certified Course | Technical Analysis Made Course | Apply Now
Eligibility Criteria
Students pursuing B.E./B.Tech, M.E./M. Tech, MCA, MSc (Electronics)/ MSc(CS)/ MSc(IT), DoEACC 'B' level at recognized Indian universities and earning at least 60% in the most recent degree or certificate examination are eligible.
The aforementioned minimal requirements do not guarantee an internship in the NIC. Candidates with experience in the field of the proposed internship, strong academic credentials, and higher qualifications will, depending on need, be given preference.
The internship will not be available to students who are in their last semester or who will graduate in the summer of 2023. The following students can be eligible:

Available Internship
Block Chain Technology
Cloud Computing
Artificial Intelligence and Machine Learning
Micro Services
Data Analytics
eService Delivery
Text Analytics and Ontology
DevOps
Chatbot
Internet of Things (IoT)
Cyber Security
AR – VR
Quantum Computing and Cryptography
Mobile Computing
Open APIs
User Interface/User Experience (UI/UX)
Also read: AWS Academy Sponsored Internship| Cloud Technology Virtual Internship Program | Free AICTE and EduSkills Certification
Dates To Be Remember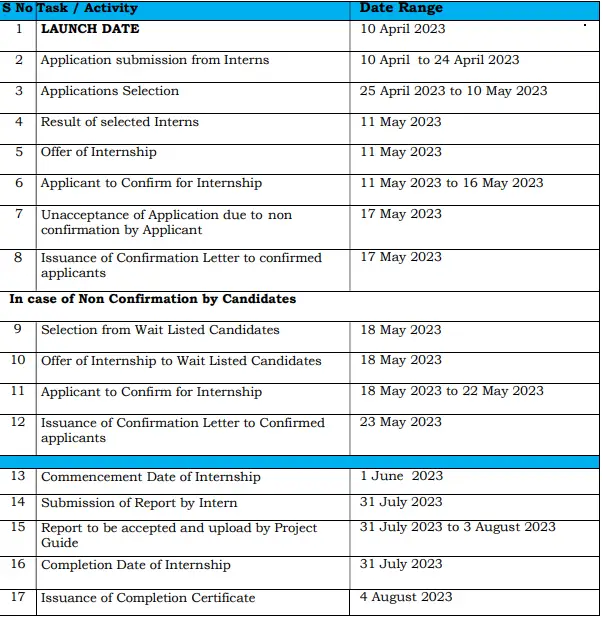 Also read: Infosys Springboard Young Professional Certification Series| 6 Free Certification Courses Series| Apply Now
Benefits
Upon completion of the internship and submission of a report that has been properly countersigned and accepted by the Training Division, NIC, certificates will be given to the interns.
Under the condition that his supervisor or mentor properly certifies his satisfactory work, an intern would receive a token payment of Rs. 10,000 every month.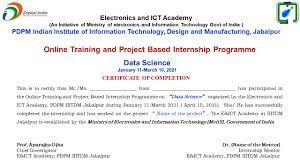 How to apply?
Click on the below button for applying To Digital India Internship Scheme
Also read: IIT Bombay Internship 2023 | Any Degree & Any College Student | 5 Domain Specific Internship