We have talked a lot of times about the AICTE Internship platform that is verified by the Government of India. Here you can get Internships in Marketing, Finance, Sales, HR, Business Development, Business Analytics, etc. So, recently AICTE is providing 1 Lakh+ Internships Opportunities for students who want to kickstart their careers.
To create a skilled workforce All India Council for Technical Education (AICTE). If you are a technical student who is pursuing it's higher education can apply for internships. What's fascinating here is that the top companies including SalesForce, CISCO, Mahatma Gandhi National Council for Rural Education (MGNCRE), RSB Transmission India Limited, etc have already listed their internships.
Also Read: ISRO Advanced Geospatial Technologies for Disaster Risk Reduction (DRR) Course | Apply by 18th April 2022
Also Read: IIM Shillong Internship Opportunity at Dr. Kalam Centre | Get Stipend Rs.25000/-
What do AICTE 1 Lakh+ Internships Opportunities include?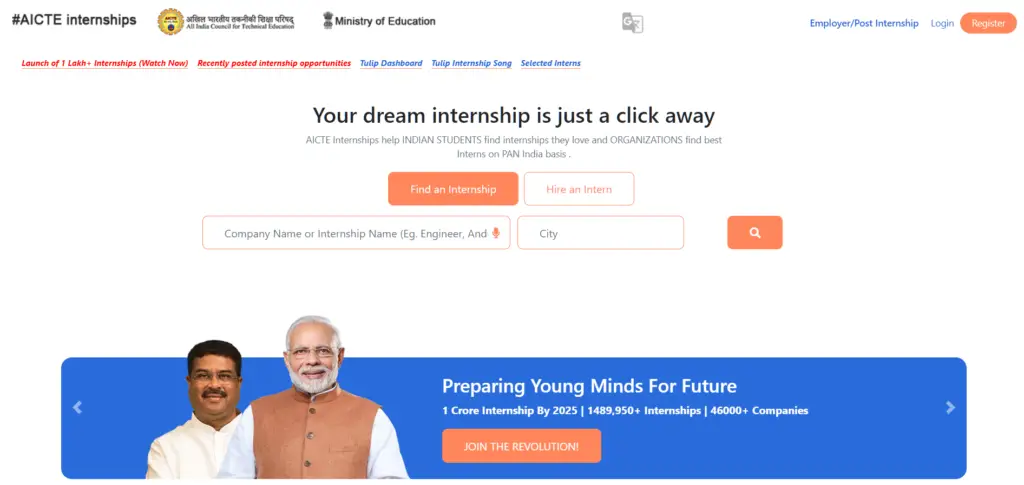 Dharmendra Pradhan, the Union Education Minister of India in his recent interview said that "I must take this opportunity to congratulate the companies for contributing to nation-building. It is commendable that they have taken the responsibility of training college-going engineering and humanities students." "We would like to increase the Gross Enrolment Ratio from 27 percent to 65 percent. I am happy that the wheels of the chariot of the National Educational Policy 2020 have started rolling with the launch of this program,"
Also Read: Cisco Cyber Security Virtual Internships | Government Free Internships | Apply by 23 May 2022
Current Stats of AICTE
The portal has 45,000+ registered industries
More than crore users are registered on the portal
Over 15 lakhs internships posted
Also Read: Paytm Internship in Operations Associate | Apply Now
Tie-Ups of AICTE
AICTE has partnered with Urban Development Ministry, National Highway Authority, Social Justice Ministry, NASSCOM, Microsoft, and other private companies and upcoming tie-ups include Railways, Rural Development.
Also Read: NITK Summer Research Internship Programme | Get Stipend Rs.5000/- per month
How to Apply for AICTE 1 Lakh+ Internships Opportunities?
You can understand the registration process by watching the official video posted by AICTE Neat Cell.
Official website Link – CLICK HERE.
Also Read: IIT Bombay FOSSEE Summer Fellowship 2022 | Apply Now